Sign-Up for eNews
Join our mailing list for latest news and offers!
Jan 15 2020
Kitchen makeover , Kitchen Resurfacing or New Kitchen? ANNOUNCEMENT CORONAVIRUS, COVID19 : IS...
Dec 27 2019
Like Glass Acrylic Splashbacks for a limited time 6mm x 2440 x 1220 sheet delivered for $490.00...

New Website Launched!
Posted by ISPS Innovations on 7 December 2013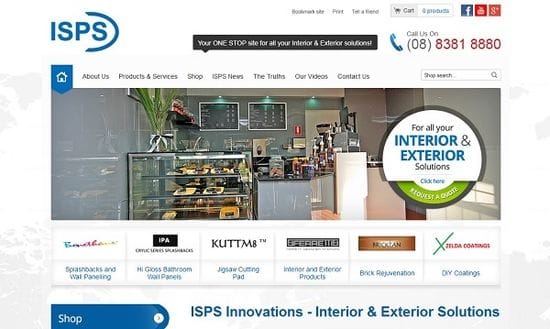 We are very excited that we have launched our NEW WEBSITE!
Special thanks to our Online Internet Partner, Andrew Osborn from Bloomtools Adelaide for assisting us create our awesome new online presence.
If you need a website or need to update your existing online presence, then contact Andrew Osborn at Bloomtools Adelaide, he will happily assist you in making sure you look professional online.
ISPS Innovations
Your ONE STOP site for all your interior and exterior solutions!
ISPS recycles all their products......
Visit our Online Shop NOW!
Author: ISPS Innovations