Cutting Warranty Guidelines
When cutting Bonethane keep masking on the face of the sheet. This protects the Bonethane face from being injured. Masking should be peeled off after final installation (ensure Bonethane is secure upright position mounted to wall by clear non acidic silicone). Apply silicone to seal Bonethane edges once satisfied with mounted position on wall and colour consistency.
Before cutting Bonethane PLEASE CHECK COLOUR PRIOR TO CUTTING & INSTALLATION, WE WILL NOT EXCHANGE IF YOU HAVE CUT THE SHEET WITHOUT CHECKING COLOUR CHOICE. SIMPLY PEEL BACK TOP LEFT CORNER A FEW CM TO CHECK COLOUR KEEPING MASKING IN TACT.
ISPS will not exchange colour for wrong colour choice as all orders are custom made.
Bonethane Premium sheets can be easily cut by using the most standard fabricating equipment. It is advised that when cutting Bonethane to keep masking on the face of the sheet. This protects the Bonethane face from being injured. If you are using cordless equipment ensure batteries are fully charged & blades are suitable & sharp for cutting.
Batteries not fully charged will result in loss of momentum, which can pull up the product. creating a danger which can result in the product flicking up at you.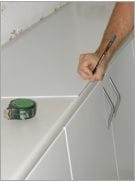 IPA Acrylic sheets must be cut with sharp plastic cutting tools because of the lower heat rating. Sharp Plastic cutting tools are recommended & advised as a part of IPA warranty .
For more information please contact 08 8381 8880. Note IPA Acrylic splashbacks do not cut like Bonethane Premium. IPA Acrylic & cuts like Acrylic. All Acrylics cut the same, don't be confused by misleading statements that imply Acrylic cuts like Bonethane Premium. SEE Bonethane splashback installation
Bonethane Premium, & IPA Acrylic are engineered batched & masked by a high performance manufacturing machines. Every colour match is processed by our Innovative Splashback Team. All goods that leave ISPS Innovations are quality checked & photographed with Batch numbers. We are able to identify every order that leaves our floor.
On the 25th of May New GripTek TM was implemented to the back of Bonethane Premium grades.
COLOUR VARIATION & MEASUREMENTS
Please contact our office within 24 hours of receipt of your products for any variation in colour or measurements. All goods should be checked within 24 hours & reported to ISPS for any discrepancies. If any discrepancies occur do not cut or install product. Call our office for prompt attention, ISPS will address accordingly. If you do not contact our office within 24 hours of collecting your goods further investigations will take place which may delay the resolution. Note a cutting list & goods description are attached to each order, goods should be checked off against this once in receipt. If you do not check all goods prior to application & report an issue after the fact, this is not negotiable. Note each job completed is quality checked & recorded. We are all human & errors can be made so please assure all goods are marked off & measured, checked & colour checked prior to installation. A copy of your cutting list is kept & photos of each job taken. Please call if in doubt 08 8381 8880 or MOBILE 0424877084. Available 7 days a week till 9pm.