The Truths - Home Renovators,Trades, Designers
ISPS means Innovative Splashback Polymer Systems through our Innovation.
Bonethane Premium is the original painted Glass alternative Polymer Splashback !
Originally designed over 17 years ago and quality tested since 1998 for the DIY consumer in mind. Bonethane was created to have the same fabrication functions & versatility as MDF ensuring consumers feel comfortable once they had commenced working with Bonethane Premium. Bonethane Premium stands to be the most time efficient & user friendly Glass Splashback alternative & here is why, with a higher heat application and self extinguishing properties why would you consider Acrylic Splashbacks for a kitchen splashback.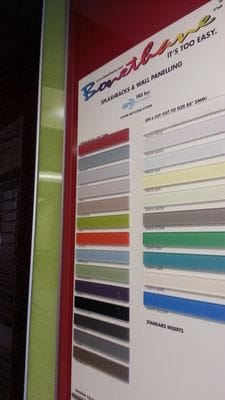 Special mention on Acrylic splashbacks: Our IPA Acrylic is a wonderful & a hard wearing substrate for feature walls,showers, surfaces for traffiked areas see our IPA Acrylic Splashbacks and Wall Panels for your commercial and domestic needs. Available in 143 colours or choose a colour EFX and DigitalArt. See ourperfectly priced Bellassimo range .
Rule number 1, lay out your colour choices and be responsible for your decisions. Ensure that the colour pallette of each substrate you work with do not clash. Do not assume what colours your getting, ISPS Innovations provide alternative colour options, colour matching and samples prior to application.
More about Bonethane Premium:
Available in any colour, EFX & digitalArt printed with gripTek backing. Fantastic for the client that requires that particular colour, corporate colour, franchise colour... bringing the requests of Architects, Interior specialists & DIY enthusiasts to life.
If your after the most vibrant white in your project then choose IPA Acrylic Sheeting by ISPS Innovations as Bonethane in an environment of whites can look or appear blue or have a greyish ora. Colours to the left are Bonethane, colours to the right are or Acrylic graded material.
Bonethane does not split or crack like Acrylic when using standard cutting tools.
Great for outdoors UV rated!
Bonethane can be cut drilled & planned moments before install, will not crack & split over long periods when mounted on a wall where H classification sites are present (suffer underground movement) which causes cracks in the wall. Allowing you time to remove the Bonethane Premium sheet with ease & address the wall area & replace the sheet on the wall with the sheet sanpping after removal.
Bonethane can be cut years after installation on the wall, if you have a cavity behind the wall you can easily add other holes & outlets in the future.

Bonethane does not need the wall coated a neutral colour or need the backs of their sheets sanded to apply to the wall. Bonethane Premium has GripTek Technology eliminating this time consuming process that can add days to preparation.

View our You Tube clip Bonethane Premium Vs Acrylic Splashbacks, available on the ISPS website for your convenience .

If you are in the process of comparing Bonethane Premium to similar looking products we suggest you look at what the actual differences are.

On the 25th of May 2013 New GripTek TM was implemented to the back of Bonethane Premium. This was put into complete production process to control colour batches & save further time to the consumers in prepparation to the wall creating consistency and locking in colour. GripTek is Applied to our dgitalARt PrintedImage sheets, eliminating coventional viynl wraps.

ISPS is you one stop domain to all SPLASHBACK categories, WALLS & FLOORS, Bench-tops, Polyurethane Doors, Table tops, Shopfront displays, Partitions.Bonethane Premium Splashbacks & Wall Panels,
Bonethane10
IPA Acrylic Splashbacks and Wall Panels
Vetro Poly Starfire Toughened Glass
Alumethane 3mm Composites
Bellassimo Acrylic Splashbacks
CulourTek Benchtops, partitions, cafe table tops
Polyurethane Doors..........
Our CulourTek range is anti scratch and non porous like our splashback categories available in any colour base with your colour flicks.

1. CUTTING Bonethane Premium:
Bonethane Premium: No restrictions cut as close to the edge as you wish. Bonethane Premium works well with all types of jig saw blades. Note: larger teeth will leave a larger cut line and finer teeth will leave a smaller cut line.
Removing cut lines is so simple. A quick sand, file or plane will eliminate cutting lines. A cutting line is the teeth marks caused by the blade. All types of cutting machinery & hand tools can be used.
More Care is required when cutting Acrylic. You cannot cut toughened glass. Mind edges of toughened glass, if tapped this will compromise the structure & explode!!
2. DRILLING Bonethane Premium:
No restrictions like Acrylic, drill from one side either the face or from the back of the sheet. Example power points can be added years after the splashback has been installed, there is no need to score & flip the sheet around like Acrylic install processes. Screwing into the sheet always needs a pilot hole just the same as MDF. You need to allow the space for the entering screw. All types of drill bits can be used as well as spade blades, whole saws and hinge borers.
3. ADHERING Bonethane Premium:
No need for double sided tape, creating 4mm joints, sanding the backs of sheets in preparation of mounting to the wall, or painting walls behind joints allowing to cure or overloading silicone behind the cook top! (this is a no, no) Acrylic should not be used behind a cook top.
Installing Bonethane Premium needs silicone strictly applied in a grid format. Our preferred silicone is Parfix All purpose neutral cure in clear. The grid format installation system expressed by ISPS creates a vacuum effect using the air pockets inside the grid squares as suction caps, much like suction caps on glass. When applying silicone in a grid format & pushed up against the wall this system creates a suction effect, binding effortlessly to the wall. It limits the excessive need for packing loads of silicone.
ISPS provide an easy logical installation system suitable for our light weight products. Bonethane Premium is much lighter than glass and much easier to install due to this simple DIY system. If you see advertising to be lighter than glass but provide the same installing instructions as glass, ask why? , then go through the install process from start to finish & see why Bonethane Premium is the most cost effective & simple installation splashback & wall panelling system in any colour in the market place. Our new GRIPTeK process introduced on the 25th of May 2013 but formulated & tested since 2008 is proving to save time to the consumer as our advancements provide the fellow DIY'er & Trade industry specialist time in preparation, which allows a fast execution for the install process.
Note: INFORMATION:
The reason why installation of glass requires double sided tape. Glass is heavy & the silicone needs time to cure. Gravity pulling the glass down ward due to the weight of the glass creates a need for double sided tape. Double sided tape is used for the sole purpose to help the silicone cure during the curing period.
IPA Acrylic require the same neutral cure silicone as Bonethane Premium. ISPS do not recommend the double sided tape method with IPA Acrylic,Bonethane Premium brands. IPA Acrylic & Bonethane GN Acrylic grade as with all Acrylics should not be placed behind a cook top.
In a kitchen environment the splashback should be resting on top of the bench top with a 2mm gap under the top cupboards & at the ends to allow movement. The sheet should be slightly smaller allowing the placement of the sheet to float around its parameter & fit between cupboards, this is apart of our warranties.
We strongly suggest that when choosing a splashback to carefully read the instructions & warranties, if in doubt call one of our team...
Installations that express painting the wall a neutral colour need this in place for two main reasons, expansion & retraction & colour consistency. Painting the wall behind a joint is for the sole purpose for colour to show through the silicone join. Painting the wall a neutral colour is done to hide imperfections in the wall that may show through the sheet, once mounted. This process creates further cost for paint & more time required to install due to the paint having to dry before install of the splashback. Resulting in the job unable to execute in one day. If done so the risk of working with uncured paint can affect the silicone especially if the silicone is not acrylic based as most water based paints are. Other splashback brands specifically express not to use acrylic based silicones therefore the risk of problems are higher & at the customers sole responsibility.
Bonethane Premium is the DIY favourite! Bonethane Premium, so easy to work with & looks visually fantastic! No polishing after cleaning! Wipe down with damp towelling cloth Bonethane Premium air dries & shines!
4. JOINTS:
Joining Bonethane is easy, with many options available, butt joining, trim joining and Bonethane strip joining.
What is a butt joint? Butt joining is when the two edges are touching at the join.
What is a trim joint? A Trim joint is when 6 x 6 aluminium strips are placed between the edges of two Bonethane sheets expressing the join, this trim is available in Anodised or colour coded.
What is a Bonethane strip join? A Bonethane strip join is when Bonethane strips are cut at 6 to 8mm in thickness sanded with fine sand paper creating a neutral clear finish then placed between the edges of the two Bonethane sheets expressing the joint. The Bonethane joining system eliminates the need of painting the wall where the joints sit, creating less cost & less running around & waiting times.
5. CLEANING Bonethane Premium, IPA Acrylic, BonethaneGN (Acrylic grade):
Cleaning Bonethane Premium, IPA Acrylic & BonethaneGN (acrylic grade) is simple,
1. use domestic kitchen grade detergent mixed with warm water to create a warm soapy lather.
2. Wash Bonethane Premium, IPA & BonethaneGN in circular motion (do not use scourer.) use a soft sponge or cameo.
3. Rinse Bonethane IPS or GN grades with clean warm or hot water rinsing soapy residue.
4. Use a clean warm or hot damp towelling cloth to wipe down, allowing Bonethane's grades & IPA air dry technology to dry and shine.
Wax and grease remover works very well for eliminating silicone on the face or for excessive oil marks. Most scratches & swirl removers found in hardware stores work well with Bonethane, try a small area first. ISPS have polishing compounds available soon on line............
http://www.youtube.com/watch?v=SwpP8VSA3Yg Bonethane Premium Installation!
THE REALITY:
Bonethane Premium was introduced to the DIY market so people could have a great looking product that has the same distinctive look as glass without the high cost & headaches other materials present when cutting or shaping. Bonethane Premium has greater heat distribution than all Acrylic substrates and can be easily cut, drilled and planned moments before installation.
The Bonethane Premium Pack 2440 x 760 is a pack comes with loads of inclusions, not a single sheet on its own, amazing value, for more information call 08 83818880
DIY is a market where people are experimenting with materials on the job ISPS know this & our brand Bonethane Premium has proven this in the last 12 years. The average ISPS DIY customer can easily achieve what they desire without headaches. Every DIY enthusiast can work with MDF because it is easy to work with. With this in mind ISPS was on a mission creating Bonethane Premium, expressing the same workable fundamentals & additional custom feature inclusions that's a finished product & looks visually amazing.
Since Bonethane Premium was released there have been many copycats claiming to provide the same outcome as Bonethane Premium, view our videos on You Tube & see the differences for your self. IPA Acrylic & BonethaneGN (acrylic grade) are not to be confused. .
Bonethane Premium is the "Platinum" in easy DIY Splashbacks, saving the consumer time money & preparation. We have a VIDEO section on our website dedicated to ISPS INNOVATION Products. Please have a look around. If there are any questions we have not answered or been clear on please contact us.