Sign-Up for eNews
Join our mailing list for latest news and offers!
Jan 15 2020
Kitchen makeover , Kitchen Resurfacing or New Kitchen? ISPS Innovations do it all!&nbs...
Dec 27 2019
Like Glass Acrylic Splashbacks for a limited time 6mm x 2440 x 1220 sheet delivered for $490.00...

Acrylic Splashback Installation guide
INSTRUCTIONS FOR IPA ACRYLIC 6mm & 3.5 mm SERIES by ISPS Innovations ABN 25132474189
ISPS Innovations manufacture custom coloured & printed acrylic splashbacks in IPA Acrylic & Bonethane high heat polymer wall panels that self-extinguish. Our Polymer Sheets are used by Architects, designers & domestic DIY.
ISPS colour face technology and printed splashbacks carry the Australia Made logo. ISPS deliver Acrylic splashbacks nationally.
ISPS innovative and decorative technologies are ideal for domestic or commercial applications.
Refresh Renovations with ISPS Innovations.
SEE OUR TIPS BEFORE YOU ATTEMPT TO CUT YOUR IPA ACRYLIC SHEET.
DO NOT BEND SHEET the IPA Acrylic Splashback
THERE IS NO NEED TO SAND THE BACK OF IPA ACRYLIC SHEET OR USE DOUBLE SIDED TAPE FOR STICKING TO THE WALL!
NOTE THE GLOSS SIDE IS THE MASKED SIDE AND THE TEXTURED SIDE IS MOUNTED THE THE WALL,THIS IS THE GRIPTEK BARRIER BACKING, APPLIED TO ALL PAINTED POLYMER SHEETS.
ENSURES SHEETS ARE BRACED , MEASURED & LEVEL BEFORE CUTTING.
USE FULLY CHARGED AND SHARP TOOLS.
USE NEUTRAL CURE SILICONE IN CLEAR ONLY FOR ADHERING TO THE WALL!
When cutting printed panels do not cut where image follows on to a second sheet. Only cut from the external sides as long as it does not impact the image. If images are perfectly aligned in height, only cut from same side, as images are married in height for follow on of image.
DO NOT USE LIQUED NAILS TO INSTALL SHEETS. USE ONLY CLEAR NEUTRAL CURE SILICONE.
Buy a bottle of diggers Wax and grease remover, this not only removes silicone spills but is great for cleaning once a month in shower areas. Simply add to damp clean cloth. Wipe area, wash with soapy water, rinse residue and wipe with clean damp cloth. IPA Acrylic will air dry and shine.
DO NOT USE ACETONE TO CLEAN SPLASHBACKS
When cutting 3.5mm IPA Acrylic, cut on a sacrificial board about 12mm thick mdf. This will assist in preventing the product from cracking. This should be addressed for all cutting on this sheet thickness. If in doubt call ISPS Innovations 08 8381 8880
You will require some safety tools jigsaw, drill, clamps, dust mask, tape measure, neutral cure silicone non acidic in clear, masking tape, hole saw, maker pen, level or straight edge, level flat table, your acrylic splashback and diggers wax and grease remover.
These instructions are to be used as a guide. If in doubt call ISPS Innovations. 08 8381 8880 or 0424877084 A/H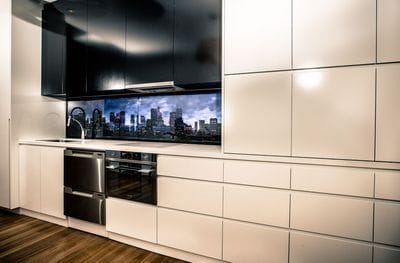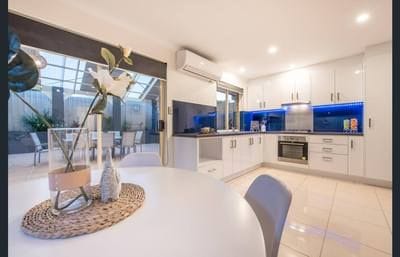 Cutting IPA ACRYLIC
Ensue you have your Practice piece of Acrylic, this sits on the top of the packaging. Use this to prcatice your cuts and drilling
Use fine sharp blade/ jigsaw for cutting plastic / acrylic.
IPA ACRYLIC TIPS AND PREPARATION
Cuts must be planned !
Use packaging as a template to measure your cuts.
Slow revolution for drilling so not to crack or split the acrylic sheet.
When addressing holes you can address in two ways , a preliminary hole (small insertion into the sheet) either side of your Acrylic sheeting (either side for the sheet). This is to be addressed prior to executing holes cuts with hole saw. This is a subtle process. With a thinner drill bit drill half way one side , flip sheet and drill opposite side. This allows you to effectively address the cut out without any blow outs, on bigger sheets this can be awkward to handle, instead you can drill gradually through the sheet with a thin drill bit, let the drill bit do the work, add slight pressure, keeping the panel supported everywhere. This allows you to effectively drill through the sheet. Once the preliminary hole is addressed use your hole saw in your chosen measured diameter and insert the hole saw drill bit into centre of the hole to create hole cut out.
Use fine sharp tooth jigsaw for cutting straight cuts.
If in doubt call ISPS Innovations 08 8381 8880.
More care is required when cutting 3.5mm IPA Acrylic, ensure you have a sacrificial panel to support any cutting. This is placed under the 3.5mm acrylic.

HOW TO CUT & DRILL IPA ACRYLIC .
PLEASE READ INSTRUCTIONS CAREFULLY, IF YOU HAVE ANY CONCERNS PLEASE CONTACT 08 8381 8880 DURING BUSINESS HOURS OR AFTER HOURS MO 0424 877 084 BETWEEN 4.30PM AND 9PM, IF YOUR CALL GOES TO VOICE MAIL PLEASE LEAVE A MESSAGE & ONE OF OUR HELPFUL STAFF WILL CONTACT YOU.
CUTTING: Use a jigsaw with fine sharp teeth. Use revolution of jigsaw, holding tool firm and steady. Do not force the jigsaw, let it glide. Ensure the sheet is braced and level to prevent cracking and splitting.
PREPARATION
In wet areas ensure walls are water proofed prior to installation & cured. Area Of wall should be flat & smooth level & neutral in colour prior to installation.

DRILLING
Firmly support acrylic sheeting when cutting & drilling. This will minimize chipping or cracking. Drilling should be a slow revolution with steady pressure.
DRILL DESIGNS
If the proper drill, drill speed, & feed rate are being used, continuous spiral chips or ribbons will form. For larger diameter drills, slower rotating speeds will give the best results.
HOLE CUTTING Get a hole saw that cuts acrylic.
Hole saw, choose your preferred diameter.
Address preliminary hole, prior to hole saw cut out. At the centre of the diameter, use a drill bit 2 in thickness, drilling through sheet, steady slow revolution, so not to crack. Once preliminary hole is addressed use hole saw and follow hole saw instructions that appear with your tools you have purchased.
Insert the hole saw drill bit into the predrilled hole and address the diameter cut out for shower head, taps or pipes.
Ensure the sheet is braced and on a level surface.
Address steady speed with hole saw and drill through about 3mm on one side. Flip the sheet and use pre drilled hole on the other side as a guide and follow same process drilling the balance through the other side. Please ensure this is flat and level.
When measuring holes or cut outs work from base of the sheet to the centre of the diameter and the side of the sheet to the centre of the same diameter This will eliminate critical errors.
Allow a 2 to 3mm gap from the bottom of the sheet to allow for expansion and contraction, where required, if unsure call ISPS Innovations 08 8381 8880.
If your sheets were precut, just ensure they fit before install.
When measuring shower wall panels that sit at a right angle, remember one sheet will slot in first and the return will slot in second, make an allowance for the second sheet to be shorter than the thickness of the first sheet.
On printed panels this is discussed prior and appears on your proof, so please refer to your signed proof for sheet placement.
When measuring hole cut out
1. Always work from one side of the sheet when addressing cut outs. You can work from both sides if you are confident.
2. determine the diameter of the cut out for your shower head or tap holes.
3. measure from the edge to the centre of the diameter, then measure from the bottom to the centre of the diameter.
4. use the shower head bit to trace the diameter onto the sheet (masked side)
5. use a square measuring tool to ensure this rests centred
6. follow the instructions for cutting out hole.
Power out let cut outs
1. Always work from one side when measuring cut outs or holes. You can work both sides if you are confident.
2. Measure from the edge of the wall to the centre of the out let.
3. Measure from the bottom of the wall to the centre of the outlet.
4. Use a square to ensure this sits centred
5. Ensure the hole you cut is not greater than the cover plate. The covering plate will hide the cut hole cut.
TOOLS & PERFORMANCE
ALL BLADES SHOULD BE KEPT SHARP. BATTERY OPERATED TOOLS FULLY CHARGED.
WHEN DRIILING IPA RANGE USE SLOW REVOLUTUION OF SPEED, ENSURE MATERIAL ARE BRACED AND NOT FLOPPY.
CUTTING WITH JIGSAW, FINE SHARP TEETH FOR CUTTING PLASTIC.
When using a Jigsaw to cut IPA ACRYLIC all cuts are to be planned & measured accurately. Fine sharp teeth blade to cut plastic/ acrylic PMMA.
Jigsaws should be used for small diameter curves & for interior cuts on IPA Acrylic Sheets. The blades are narrow and can be easily inserted through a drill hole.
SLOW REVOUTION OF SPEED WHEN DRILLING IPA SHEETS, ADD SLIGHT PRESSURE, ALWAYS PLAN CUTS.
When applying silicone. Cut nozzle on a 5mm angle. Apply silicone in fine strips in a grid format (like squares), 10 cm apart. On smaller sheets 5cm apart is fine.
Full colour images are on our website.
USE: neutral cure clear silicone to the backs of your IPA ACRYLIC sheeting not double sided tape.
Ensure the wall is a neutral colour with products that do not have GRIPTEK BARRIER BACKING. APPLY SILICONE IN GRID FORMAT 10 CM APART ON COATED SIDE, NOT THE MASKED SIDE OF THE SHEET. PLEASE SEE STEP BY STEP BELOW ON LINE for coloured images http://www.ispsinnovations.com.au/bonethane---installation.html
After cutting and before silicone & installation, provide a light sand to edges prior to wall placement, to conceal saw marks that shadow on the profile (edge of the sheet) when natural light peers through edge. This is a part of install process.
Check that the sheet you have cut, fits before you apply silicone.
After clear silicone grid process, mount IPA Acrylic onto wall, inserting cables, or tap holes through the cut outs, securing tile wedges around the selected perimeter, leave tile wedges over night.
Clean surrounding areas free from saw dust particles or silicone. Peel off protective film from IPA face, once installation is in secure. Please refer to "Care Do's" for keeping IPA bright & beautiful.
Add clear silicone neutral cure, to the coated side of IPA Acrylic ( this is the side that does not have protective film), or apply to wall face 100 mm from edge, so silicone does not bleed through edge. Silicone can be applied vertically from the top then horizontally creating a grid of squares around 10 to 15 cm width & length ways. No thicker than the nozzle, less space on smaller sheets.
Clear neutral cure silicone only for the back, white silicone neutral cure can be used to seal edges.
Follow instructions for silicone application when applying to edges, the product you choose should display instructions, make sure it is a water proof silicone used for kitchen & bathroom areas (neutral cure)
TIPS SILICONE: cut nozzle on an 3mm/5mm angle. Work upwards or forwards when applying silicone in a grid format. When sealing always remove excess silicone keeping neat straight line. If your faced with accidental spill of silicone on the sheet face apply diggers wax and grease remover to a clean damp cloth, wipe effected area, repeat process if you have to, then simply rinse with warm soapy water, rinse residue and wet wipe clean, NO DRY POLISHING!
IPA Acrylic will air dry and shine.
LETS INSTALL
Step 1 BEFORE YOU INSTALL
Before installing IPA Acrylic if slightly bowed from standing, lay flat for a couple of hours prior to installation.
Ensure that wall is level and flush forming even flat surface for placement.
Ensure your wall is prepared correctly free from holes & areas water proofed & cured sufficiently.
Coat the wall a neutral colour if required, allow wall to cure before installing IPA Acrylic. If you have GRIPTEK barrier backing on your sheet, this step can be missed. If you have a barrier backing on your sheet this is fine as well.
If you have premeasured and requested your panels cut to size, simply check that measurements fit before your silicone.
Measure the length and height of the space for your splashback. Mark up these measurements onto your IPA Acrylic Sheet using the masking tape. Determine if the splashback can cover in one section or whether you'll use numerous pieces to create your section.
Step 2 PREPARATION TIPS BEFORE YOU CUT
Ensure the area for the preparation of cutting is free of obstacles, on a solid flat, non slip surface & in a well ventilated & lit area. Secure sheet for cutting.
3.5mm Acrylics require a sacrificial panel for cutting.
Ensure your Acrylic sheet is measured correctly & firmly secured in preparation for cutting. Ensure it is not floppy, as this can crack or make the sheet flick up at you.
TIP Its is important to sand edges before install to eliminate shadow lines left by cutting, This will address any saw marks that can shadow the edges with natural light, this process takes 2 minutes.
Step 3 MEASURING YOUR OUTSIDE PERIMETER & EXPANSION ALLOWANCE
Measure the outside perimeter of the wall, length & height, allowing a 2mm gap where appropriate. One width by one height is sufficient. You want the sheet to float to allow for expansion movement, any fine gaps can be hidden with silicone. If your sheets have been precut, just ensure they fit before install.
DO NOT LEAVE A GAP WITH A BUTT JOINS. As long as one side has an expansion allowance this will be sufficient. When butt joining sheets, it is effective to polish edges with wet dry sand paper to create a seamless elegant line.
Cutting your Acrylic sheet to size
To prevent chipping of the splashback, it is useful to use masking tape where you're going to cut. Mark your measurements on the masking tape.
Using clamps, secure your splashback and check measurements once applied with your straight edge, use a power jigsaw to address your cuts after you measure and mask your cuts.
Step 4 Mark out the power points, tap holes or shaping
Measure the width and height of the power points and transfer those measurements onto the front of your splashback using the masking.
Measure from the edge of the sheet to the centre of the power out let. Then measure from the base of the sheet to the centre of the outlet. It is helpful to trace the covering template and drill the holes to sit within the covering plate. Then use a jigsaw for accuracy creating your power hole cut out. This will allow you to feed through cables. (ensure electricity is switched off when addressing) You may require an electrician for complicated outlets.
Step 5 Hole Saw Determine the size of your diameter (review, the covering plate of the shower plate to determine the diameter)
To use a hole saw, address the same steps above in measuring. It is important to measure to the centre of the diameter width by height. Trace the circle of the cover plate so it rests centre as expressed above when measuring. Address a pilot hole first with a fine drill bit, use steady gentle pressure. Then insert the hole saw drill bit into the preliminary hole and use a slow speed rotation to address hole cut. Please ensure your sheet is flat, stable and clamped.
Step 6 Once all cuts are addressed, check that it fits against the wall.
Step 7 Silicone splashback to the wall
Add strictly clear non acidic silicone to the coated side of IPA Acrylic (this is the side that does not have protective film),
First vertically from the top, then horizontally creating a grid of squares around 10 to 15 cm in width and length.
The tile wedge will be placed around the perimeter of the millimetre gap once clear silicone is applied to the back of the splashback & placed upright, against the wall. For heavier panels you can secure masking tape to the wall and sheet while curing. Which generally takes about 24 hours.
Step 8
After the clear silicone grid process, mount IPA Acrylic onto the wall, inserting cables through power hole cut outs, securing tile wedges around the 1 & 2mm allocated perimeter. Leave tile wedges over night.
If you have an area like a shower that has a return. Slot the first sheet to butt up to the corner once measured, then slot second sheet to over lap this corner. In some cases if you don't have space for the exterior edge you may need to loose 6mm if you have a 6mm sheet or 3.5 mm if you have a 3.5 mm sheet from the second panel slot in.
If your sheets are precut just check that measurements fit correctly before applying silicone.
With printed panels these have been designed to exact measurements, so they can not be cut if the image is following onto to the next sheet.
PRINTED SPLASHBACKS
Coat wall white in colour with water based paint allow to cure 48 hours before placing your printed splashback on your wall.
If you have a printed shower or kitchen splashback please follow the signed diagram proof, you approved for sheet placement.
At a right angle you will require to slot one sheet first butting up to wall lining corner, then slot the second sheet with a 6mm or 3.5mm over lap depending on the thickness of your sheet. This has been explained to you during the measuring process and appears on your signed proof.
Peel off protective film from IPA Acrylic face once you are satisfied with secure placement.
Back Lit Splashbacks.
Do not use silicone on backlit splashbacks. They are secured into a chamber and a light sits behind the printed panel. If you apply silicone to the back of the backlit splashback, the silicone will show up when the light is turned on.
Step 9
The tile wedge will be placed around the perimeter of the millimetre gap once clear silicone is applied to back of the coloured sheet & placed upright, against the wall. For heavier panels you can secure masking tape to the wall and sheet while curing.
The tile wedge will hold IPA Acrylic in place
Step 10 Seal the gaps
You can use a non-acidic neutral cure silicone in white or any colour you desire to seal gap edges. White and clear are the most effective.
If you have any questions please call our office on 08 8381 8880 or after hours 0424877084.
Warm Regards
Team Support
For After Hours Help contact 0424877084
www.ispsinnovations.com.au