Glass Installation
7+Tips to Toughened Glass Inserts & Glass Installation, DIY star-fire toughened glass.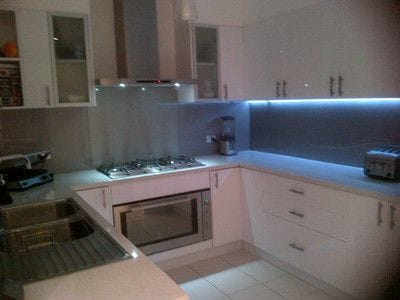 ISPS Innovations manufacture custom made Star fire or float toughened glass in any colour & digitally printed glass splashbacks.
We supply toughened Smokey glass, custom cut to size glass for the DIY market and commercial projects. Our toughened glass are used in kitchens, bathrooms, laundries for domestic and commercial application.

Note: when handling glass mind your edges as a tap to the corner can make glass explode when structure is compromised.

NOTE: Flames and appliance, hot pans, pots etc should not be pressed up against glass when elements or gas burner is on or for extended periods of time without supervision. Whilst glass has a high heat tolerance the coating applied to the back of glass are not as forgiving. Only apply cooking pans within the parameter of cooking electrical or gas element. Pans and pots should never sit over cooking parameter where it extends over to benchtops or wall backings. Cooking should always be monitored and never left unattended. DO NOT LEAVE PANS OR HOT POTS RESTING ON GLASS OR POLYMER BACKING EVER> ISPS INNOVATIONS DO NOT WARRANTY THIS AT ALL.

If you have purchased Bonethane or DIY IPA Acrylic splashback and have purchased a custom Vetropoly Toughened glass heat shield, note that glass should be installed first and centred adding optional trim or fillers either side, then the progression of the balance of the DIY splashback should be added. This can also be done the other way, following your line of planning and measure. Look at the whole installation process prior to starting, map out the difficult areas keeping your areas seamless and ensure you have a plan of your layout prior to starting. Call our office if help is required.
Did you know that ISPS Innovations can supply toughened glass for the sections effected by heat and colour toned IPA Acrylic for the balance of the kitchen. This is optional. That said some people opt for a glass insert in one colour and IPA Acrylic splashbacks in another colour to create a design or contrast colour against the decor in the kitchen.
Our Toughened glass meet Australian Standard Regulations for behind gas cook tops & burners.
When measuring your glass panel ensure 3mm gap is left around the area. Contact our office for instructions on how to measure your splashback.
When measuring & fitting your glass splashbacks, consider range hood, power & tap hole cut outs (diameter, single & double outlets) window areas, the lines of your cupboard areas and underlying cupboards as this can cause issue when fitting glass. Polished edges should also be considered.
A little information about Toughened/Tempered glass
Generally toughened glass will only explode ( loud gush noise) if there is a weakness somewhere. It is not recommended to leave hot pans or pots, left pressed up against glass for long periods of time ever.
All substrate materials require room for expansion and contraction when settled in its final resting place. Toughened glass is very strong, but everything has a weakness. With the right measuring you should not have an issue with toughened glass in domestic or commercial placement.
ISPS Innovations supply toughened glass splashbacks and mirrored glass splashbacks to Sydney, Melbourne, Adelaide, Brisbane, Northern Territory Darwin, Perth & Tasmania.