Sign-Up for eNews
Join our mailing list for latest news and offers!
Jan 15 2020
Kitchen makeover, Kitchen Resurfacing or New Kitchen? ANNOUNCEMENT CORONAVIRUS, COVID19 : ISPS a...
Dec 27 2019
Like Glass Acrylic Splashbacks 6mm x 2440 x 1220 sheet delivered for $571.00 ACT , Canberra ISP...

Printed Splashbacks and Wall Panels in Acrylic, Glass or Bonethane.
Printed Splashbacks by ISPS Innovations showcases beauty & creativity as a feature art piece in your commercial or domestic space.
ISPS Printed Splashback & feature wall panels are designed and used in bathrooms, kitchens, laundries, caravans & businesses.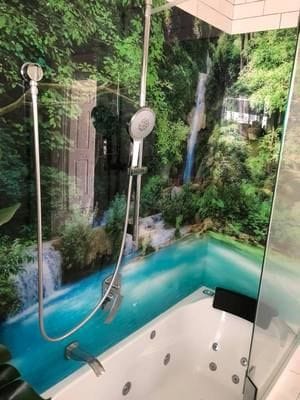 Architects & Interior Designers love ISPS Printed Splashbacks as they cover all commercial and residential expectations.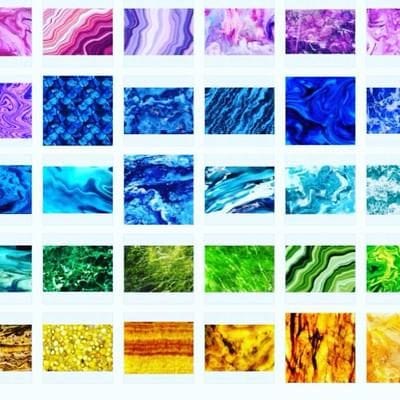 ISPS Innovations innovative printed splashbacks are available in high gloss or satin finish. In solid or backlit application.
ISPS Innovations produce high gloss IPA Acrylic Printed Splashbacks, creating a decorative splash to your project and interior design requests.
Our Printed Splashback categories are not limited to just acrylic. Our colour face technology allows us to print to many amazing panels substrates, providing you with an unlimited selection of Australian custom made printed splashbacks and feature wall panels.
ISPS Innovations create the ultimate alternative in innovative splashbacks manufactured by ISPS Innovations..
Our Splashback categories.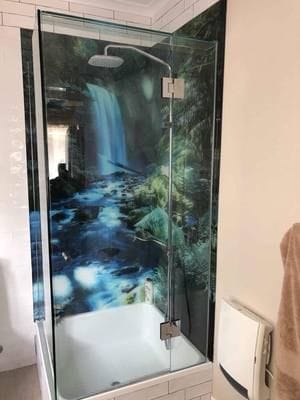 Bonethane Printed Splashbacks and Wall Panels
IPA Acrylic Printed Splashback and Wall Panels
VetroPoly Printed Glass
Australian Made and carry the Australian Made logo.
Our Printed Splashbacks and Wall Panels are suitable for any home, shower cubicles, shop or commercial display the options are endless.
With our range of splashbacks you have a selection so be the selector of your next custom project.
ISPS Innovations polymer range of spashbacks and feature wall panels look identical to glass, we should know as we supply glass too.
PMMA is known Acrylic used by trade names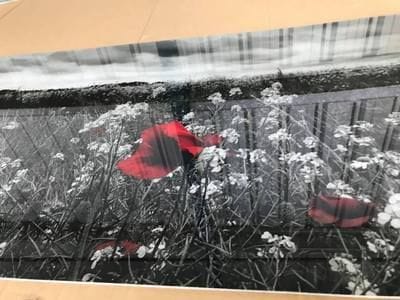 such as Plexiglas, Acrylite, Lucite, and Perspex among several others.
Want the look of glass check out this link!
Glass, Acrylic or Bonethane Splashbacks can you pick the difference?
Before choosing your printed or coloured splashback take the time to understand the difference between products & before making your decision.
If in doubt just ask one of our helpful team!
So what do you need?
You may have your own image. Simply produce a high resolution format of 300 DPI or EPS file, The file type must be large, so it covers the length by height of your dimesnions or greater. Pixels are imporant to the resolution of the image and the building blocks to ensuring the image quality is sharp for print resolution, especially for printing. We require images that are orginal. We prefer that images are not enhanced or manipulated as this could effect image quality for print process, any changes you make to an original file may not be clear on you low res pdf preview.
Images can be purchased through shutter stock or Istock photos. Note images on a screen are in RGB wider colour gamet, ISPS print to sheet in CMYK lower colour gamet, so there will be a visual colour variation.
ISPS will work with you to produce your Digital Art printed splashback or printed wall panel & deliver to you.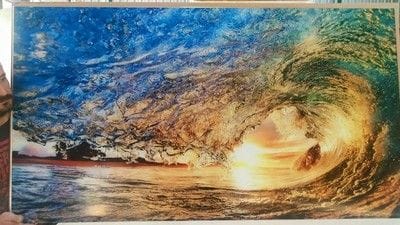 Images can also be purchased through shutter stock or Istock photos.
Note images on a screen are in RGB wider colour gamet, ISPS print to sheet in CMYK lower colour gamet, so there will be a visual colour variation. That is why it is imporatnt to have the right file size for a qulaity print.
ISPS include a low res proof of your image as a part of our service for you to confirm layout.
If you need to make any changes you have the opportunity to do so before we print.. ISPS lay out the high res image you supplied symmetrically, to fit the area creating an alignment. This proof is sent to you for approval.
Sometimes it may not be possible to print a whole vertical image horizontally or viser versa as it may distort or loose critical scenery. This also applies to large over sized images that are to be placed in narrow long areas. Just because they are a large file does not mean it can be reduced to fit across the shape.
ISPS Innovations address all cut outs prior to shipping so everything is ready to go.
ETA to NSW, SA, VIC, QLD.WA, NT, Nth QLD, TAS 21 to 28 Days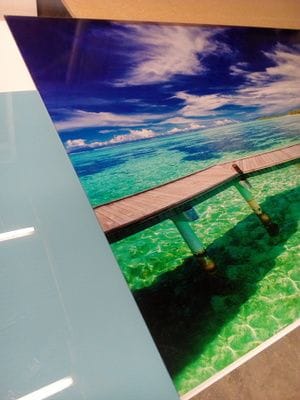 Industry professionals use our Bonethane DigitalArt for out door signage or displays because of its exceptional weathering characteristics.
Cost Effective and affordable call direct today. Let ISPS create the unimaginable printed splashback and feature printed wall panel.
PH: 08 8381 8880 or go to our contact screen and express your enquiry for prompt service 7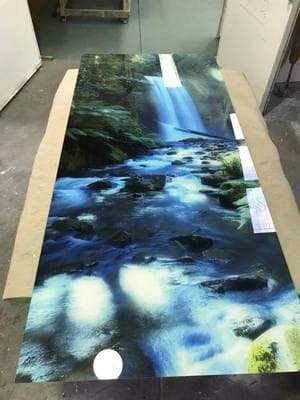 days a week till 9pm nationally.
ISPS Innovations are a national supplier of printed acrylic splashback to Sydney, NSW, Central Coast, Byron Bay. Brisbane,Cairns, Adelaide, Lonsdale, South Australia, Melbourne,Geelong, Perth, Western Australia, Northern Territory, ACT, Camberra, Tasmania, Hobart, Launceston.
7 Year Standard Warranty.