Selecting Colours that compliment your colour scheme.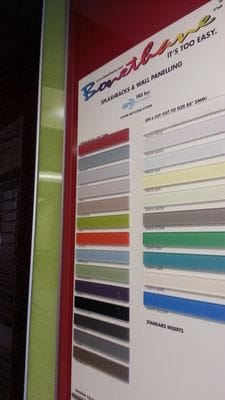 All ISPS colours are made from scratch at your request, be it from our colour range or your favourite colour.
Choose carefully with custom orders. Take up our colour match offer if in doubt. ISPS can not accept return of goods if you have chosen the wrong colour. Please ensure when choosing your colour that you consider the lighting in your home. If you have any questions call ISPS on 08 8381 8880 seven days a week till 9pm.
Ordering more than one sheet?
Because of the colour process, it is advised to order splashbacks from the same colour batch to eliminate variations.
Bonethane Splashbacks and IPA Acrylic Splashbacks & Wall Panels are available in solid colour, abstract finish, metallic, or as a printed splashback for more information call one of our helpful team members.
White & Earthy Splashback Colours
If you have a white kitchen & choose a white splash back please take into consideration that there are many variations of white (or earthy tones).
On Bonethane a white splashback can come off looking grey against white cupboards. If you require further information about colour process please call our office. With IPA Acrylic we can achieve a more pure white.
Choosing the right shade? The mystery of white on white. There are so many variations of white, which create colour differences from the purest of white falling into greys and yellows. When choosing the right white or any colour shade for your interior architectural renovation, the right colour tone is paramount.
ISPS Innovations can discuss the varying options and choices to collaborate the right white or colour for your interior project. If you require the purest of whites for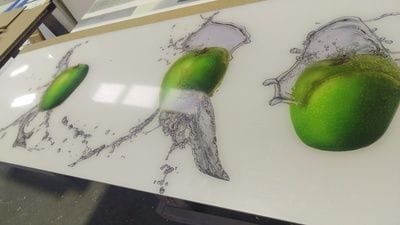 your splashback, then ISPS will suggest our IPA Acrylic sheeting as our whites on Bonethane can look more of a grey, similar to "Dulux Terrace White" (or there about). That said when the same white is applied to 3 different splashback alternatives be it glass, acrylic or Bonethane the end colour result will be three different colours.
When selecting a colour, always take into consideration gloss levels.
If you choose a matt colour, remember that once applied to Bonethane, IPA Acrylic or glass your colour choice will be glossy, this process takes time to colour match as we are dealing with reflective light, which attributes to shades in the sheet changing colour as it peers through the sheet. Hence why we colour match by eye not formula.
ISPS can colour match to any colour sample. ISPS colour match by eye so we will require a physical colour sample when matching to colour or shades. This applies in particular to fixed furnishings to prevent clashing. This is important to our colour process.
Colour Toning Existing High Gloss Splashbacks and Wall Panel Sheets
If you are extending areas in your home & require more sheeting, ISPS Innovations can colour tone our range for your project. What we require is a piece of substrate at least A4 or A3 size to be posted back to us so we can process colour. The bigger the sample the better the match.
We can have up to a 15 to 18% variation in colour toning. If the sample is to small we are limited in our colour process which can blow variation out to 25 to 30% & can effect pigment ratio which is out of our control. So remember if you require more colour toned polymer sheeting please provide as much information & colour samples or specs as possible so we can address your order.
If you require the off cut back we will gladly ship back with your new order its that simple ISPS are not responsible or imply that we can get colours to match 100% if you choose this service you do so with the understanding there will always be some sort of variation. ISPS will do there best to match as close as possible. This service and or substrate being colour toned can not be refunded.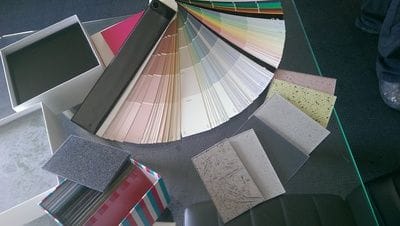 Earthy & Bold Colour Schemes & Shades
You should never guess a colour choice to create a colour theme based on what you think you see.
Important: Unless you have the physical colour tones mapped out, you run the risk of colours & tones clashing.
Example: You apply a dulux colour to your wall & want this colour on the splashback... There is a whole process to address this, one being you paint out the colour on a piece of GYPROCK or same board its applied to and post it over, this will be your primary colour sample for us to tone against. There is a hole process involved for us to achieve this.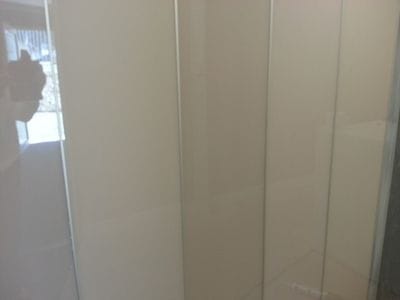 Choosing the right shade
TIP: Paint some cardboard the right shade for your desired area or collect some colour chips and lay them out. Embrace the tones that make you feel comfortable. Once you have made a firm decision send this as a sample, it will save you time & money. You will get exactly what you want. Once your order is in the system you can request a colour sample to be sent out (express postage fee applies), note additional charges apply if you change your mind on the colour, you do have the option to lighten or darken your colour choice depending on the pigment.
ISPS have our standard colour range for Bonethane Splashbacks and IPA Acrylic Splashbacks, but if that does not suit your decor, simply follow these steps to choose your desired colour:
Choose any colour sample, paint colour chips or another colour you may have.
Post your colour chip to ISPS Innovations
Place your order... It's that simple! Bonethane or IPA will be supplied in 12 to 15 working days SA, NSW, VIC,QLD (18 to 25 Working Days to WA, NTH QLD, NT & TAS reflecting custom and glass orders that are either colour toned or custom sized)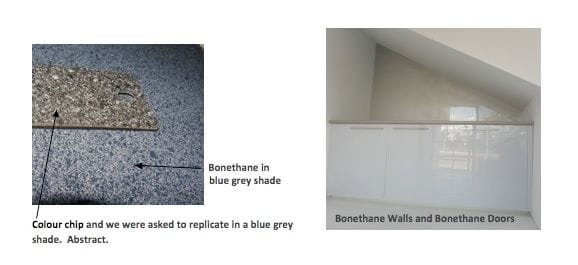 Our polymer splashback range is available in
Abstract finish,
Metallic
Solid colour
Printed Splashback
It is important that a colour sample is provided to ISPS in order to get the colour as close as possible.
If we have to rely on finding the colour & it is incorrect we can not be held responsible for colour variation. Colour that appear on screens can vary, so if in doubt, post your colour sample.
Simply post your colour sample to:
ISPS Innovations/ Colour Dept:
PO Box 339, Lonsdale, SA 5160.
Attach purchase order number, state, contact details & the place of purchase(recognised distributor).
Your custom Bonethane or IPA Acrylic Splashback order will be delivered in 12 to 15 working days to SA, NSW, VIC QLD. 18 to 25 Workdays to WA NTH QLD NT & TAS reflecting custom colour toned glass or custom sizing of glass.
NOTE: ISPS have no control over freight, or misdirection of freight. Do not book trades people until after goods have arrived and goods have been checked. You are welcome to arrange you own carrier.