Bellassimo Acrylic Splashbacks By ISPS Innovations
Posted by ISPS Innovations on 22 June 2015
Bellassimo Acrylic Kitchen Splashbacks, Universe Edition - by ISPS Innovations
Exciting New Universe colour range at afforable prices delivered nationally to your door!
ISPS Innovations brings you the environmentally friendly NEW colour range that reflects our Universe called Bellassimo Acrylic Splashbacks. ISPS has chosen the most popular colour base perfectly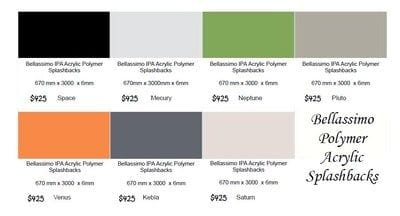 costed in these timeless set colours. You dont need a motive to DIY call ISPS Innovations today. National Delivery to to your door step.
Our Bellassimo Acrylic range solid colour high gloss sheets
3000 x 670mm x 6mm, delivered $425.00
3000 x 760 mm x 6mm delivered $ 536.00
2 sheets 900 x 2000 Bathroom Shower Pack + trim $ 849.00
our custom size.
Additonal charge for satin finish
Digital Art Printed Splashbacks
With ISPS Innovations you are buying direct from the manufacturer saving you time and money.
Bellassimo Acrylic DIY Splashbacks can be used as
Kickboards
Cupboard Doors
Showers
Feature Walls
Bathrooms
Island under bar panel
ISPS Designer Filler EFX
Laundry
Toilet
Showers
Outdoor Pool Areas
Features and Benefits of our DIY Acrylic Splashbacks
ISPS Innovations creates custom toughend glass for behind the cooktop which is available in silver or can be colourtoned to blend with Bellassimo sheeting, or be different and create your own colour!
50% lighter than glass, Bellassimo polymer sheeting can be cut, drilled,planned & polished on site.
Easy to clean simple warm soapy water, rinse residue and wipe with damp cloth. ISPS DIY Splashbacks dry and shine.
Available in High gloss or Satin finish
25 times more impact resistant than glass
Hard wearing and abrasion resistant
ISPS can provide cut to size service (additonal charge)
ISPS can provide metallic and Digital Art Printed Splashbacks (additonal charge)
Graded Polymer passes sanitary requirements
Great for Kitchens
Grout is out the door, making it easier to clean and maintain.
Gas Burners require Toughened glass insert, which ISPS can customise to your requirements, in either silver or colour toned application. Colour tone carries up to 25% variation, so ISPS focusses on depth and tone of colour to bring an uniformed finish.
Just like our Bonethane Premium sheets ISPS can match any colour in the universe
10 Year Warranty
Scratches polish out.
#Glass #Kitchen #KitchenDesign #KitchenIdeas #KitchenRemodeling #Home #InteriorDesign #Design #HomeDecor #Bathroom #Worktops
#BathroomDesign #Color #DIY #London #Colour #Splashback #Tiles #Backsplash #Kitchens #Australia #Sydney #splashbacks #diy #diysplashbacks#interior #kitchen #interiordesign #interiordesigntips #interiordesignideas #wallpanels #acrylicsplashbacks
Author:ISPS Innovations