Custom Kitchens , Joinery - Supplier Adelaide
New Kitchen, Kitchen Makeovers, or Partial Kitchen Remodelling?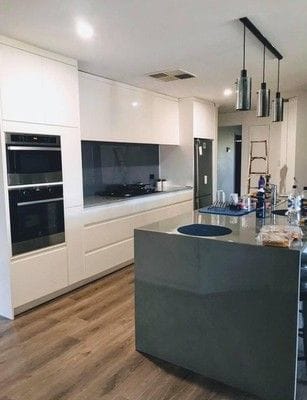 ISPS Innovations manufacture new kitchens & can resurface existing kitchens, bathrooms, laundries for both residential & commercial application. ISPS Innovations service South, West, East & North of Adelaide with our total Australian made building products.
Want to save money and DIY your kitchen resurfacing. Our factory at Lonsdale allows you to drop off your panels have them sprayed in your chosen finish and then collect.
We have solutions for fixed panels as well, and offer fixed packages including benchtops & splashbacks in your chosen colours. Our total range is Australian Made.

Quotes & Invoices on our products & custom design services
Quoting & design takes time, ISPS value your time and your custom project.
ISPS can provide a free quote over the phone & confirm via text message, your photos or drawings of your project can be sent to 0424877084 or via email which appears on our website.
Formal quotes or invoices sent via email are $65 and will be taken off the invoice once order progresses.
Site visit to quote & formalise via email $220.00 and this will be taken off the invoice once order progresses.
Australian made kitchen building products 4Renovators by ISPS Innovations.
In Adelaide we can also address any kitchen, door, benchtop resurfacing needs for renovators.
ISPS Innovations do it all!
ISPS Innovations resurface domestic and commercial kitchens and cabinets. Saving these products going into landfill.

ISPS Innovations manufacture new or remodel kitchens to your custom request. All custom made new building products are fully recyclable in the future.

ISPS Innovations manufacture coloured and printed polymer and glass splashbacks for kitchens, bathrooms used in domestic and commercial settings.

ISPS Innovations design & manufacture custom size and coloured CulourTEK Benchtops for domestic and commercial use, which are are fully recyclable in the future.

ISPS Innovations manufacture new door profiles for existing and new cabinet builds.
Whether you choose a new kitchen build or remodel existing cabinetry, ISPS have you covered and provide the expertise for new or pre-existing cabinetry, benchtops & splashback renovations.
New Kitchens
Want that designer look kitchen that caters for your every space?
Hesitant spending good money on laminated doors that may potentially fail due to heat expansions and contraction. At ISPS Innovations we do not use standard sizing. Each piece is customised to your request. We address our kitchens in 2Pac finish, providing longevity, no delaminating & peeling like vacuum formed or vinyl wrap panels.
ISPS Innovations create innovative kitchen designs that are hand crafted. We use Australian Made board for doors, carcasses & benchtops. Each piece carefully crafted and customised in your size shape colour choice and sheen.
Our processes are addressed in house and we do not rely on third party finishes to complete our jobs.
Kitchen Restoration
ISPS Innovations have seen it all and have restored hundreds of kitchens by resurfacing with success.
ISPS Innovation Kitchen Finishes
Our kitchens are coated in a 2pac polyurethane finish. With your choice of solid colours or French provincial finishes in high gloss or satin finish.
ISPS Innovations use soft close hinges and drawers to provide a light and comfortable action when opening and closing doors and drawers.
ISPS do not use standard conventional sizing. ISPS manufacture our cabinetry to your size and depth requested, using Australian made high grade premium MDF board for the carcass and face that is Australian Made
Door profiles vary on your request flat, grooved, or shaped.
ISPS Innovations also have a range of doors with different pattern profiles.
If you want to save money and want new doors for your existing kitchen and unable to measure your doors, simply drop the existing doors into our factory and one of our team will address your request.
ISPS Innovations manufacture and Supply Australia wide custom coloured and cut to size splashbacks in IPA acrylic, Bonethane high heat polymer and heat treated glass.
Kitchen Resurfacing with ISPS Innovations
Before After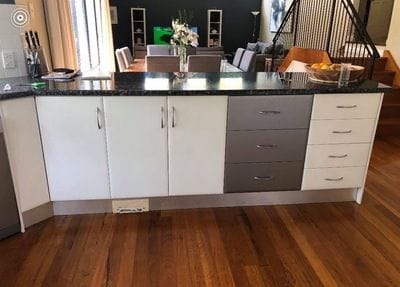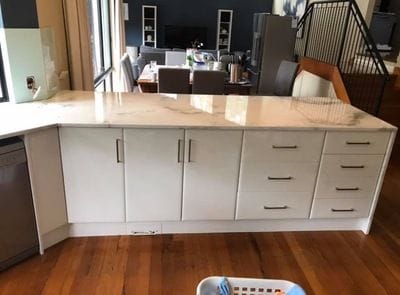 Resurfacing & restoring is the innovative make-over for kitchen revamping. Kitchen & cabinet resurfacing & alterations are cost effective, robust and environmental way to recycle & provide an alternative new kitchen feel by extending a new kitchen finish. Making over the existing kitchen layout and modifying to meet your needs will in future be the NEW new kitchen replacement .
Choosing to replace your kitchen with a new one when the existing kitchen skeleton is worthy of another 10 years is not economical or good for the environment. Unnecessary waste goes into landfill.
BEFORE AFTER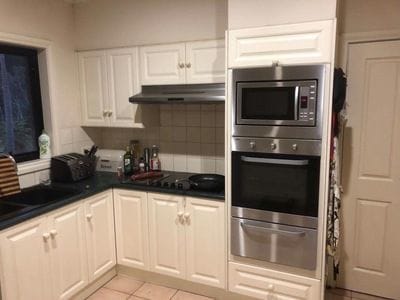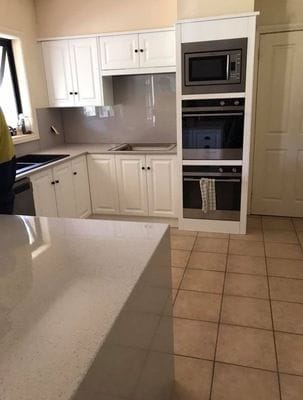 Resurfacing with ISPS Innovations allows you modify your existing kitchen layout while keeping to a budget and refreshing a dated and tired area without the heavy costs and time for a new custom built 2pac finish kitchen.
Commercial Resurfacing Dated 1970s RETRO Cafe Dinning Table & Chair Backs - Saved From Landfill.
ISPS Innovations resurfaced and saved all these table and chairs from landfill.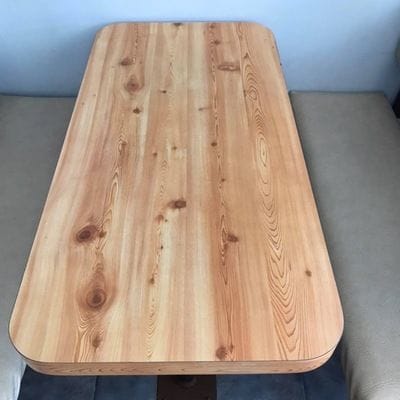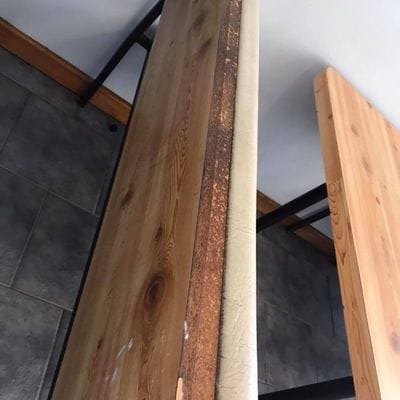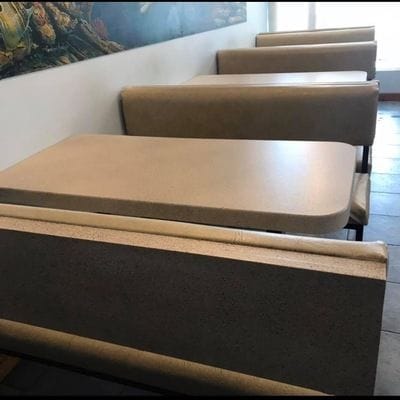 ISPS Innovations can repair, restore, modify or replace existing cabinetry, doors, carcass, benchtops, splashbacks & more.
ISPS Innovations can even replace your hardware and hinges with soft close doors and drawer runners.
4 Renovators, For Renovators, 4Renovators, ISPS Innovations
Peeling doors ? ISPS Innovations can restore them to new again in a 2pac finish.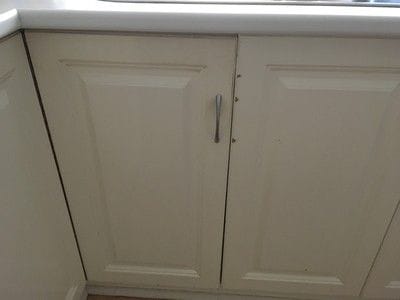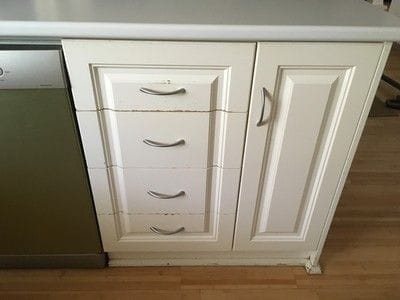 Are your kitchen doors or drawers peeling, discolouring or delaminating ?
If the short answer is yes, you are at the right section.
Consumers ask, why are my kitchen doors peeling and flaking? The short answer is the product can not deal with environmental thermal expansion and contraction.
The solution is simple:
ISPS Innovations innovative colour face technology is the answer to restore your kitchens and cabinetry to new again. Vinyl & vacuum wrap kitchens regularly go through the face lifting, delaminating & detaching, leading to flaking and peeling. ISPS Innovations kitchen resurfacing technology facilitates these doors & drawer panels to be recycled, resurfaced & restored VS disposing them to landfill.
ISPS Innovations specialise in restoring peeling doors, drawer, pantry faces & backs of panels. The ISPS remedy to repair & restore your cabinets from flaking will provide your kitchen with a much deserved face lift. You can get a that new look 2 Pac kitchen for a fraction of the cost you would normally have to outlay for a brand new kitchen design, and the reminder of the total removal and installation of the new kitchen.
Want to add new door profile?
By giving your kitchen a totally new style with a new door profile from our range of custom door face finishes will also lift the look of your kitchen.. ISPS Innovations can coat the balance of remaining fixed panels, for a constant, pristine new look and finish.
Cabinet Conversions & Cabinet Remodelling
Not all cabinets, doors & drawer faces need replacing if in good condition, these panels can certainly be prepped, restored resurfaced & repurposed. ISPS Innovations provide a 7 year warranty on resurfaced door panels and drawer faces.
ISPS can replace old water damaged cabinets, add shelves or extend lengths of cabinets and over head cupboards.
Repurposed 4 bar panels to a new cabinet and custom cut drawers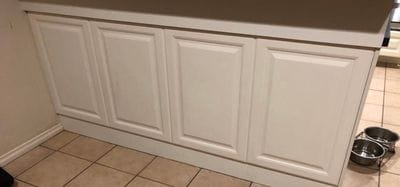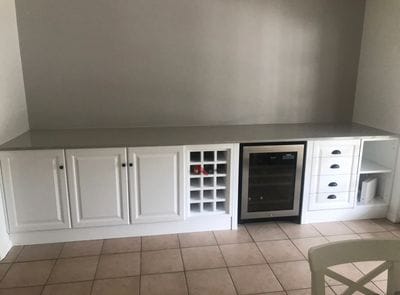 Before Breakfast Bar (back) converted to modern deeper bench with waterfall edge (no join visible)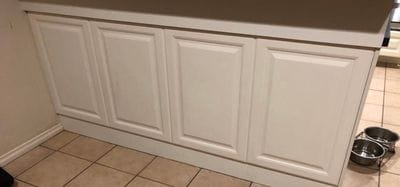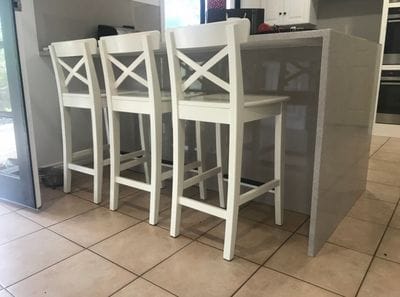 Before Breakfast Bar (front) converted to modern deeper bench with waterfall edge and new handles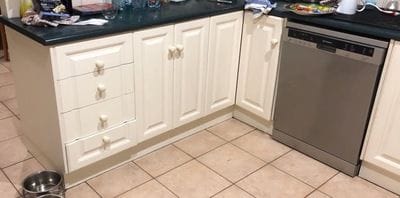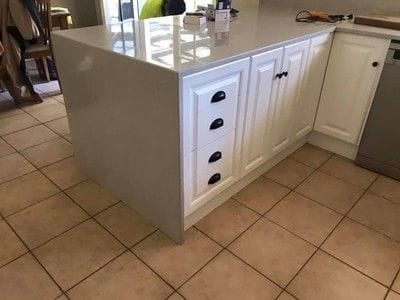 Original bar extended with new benchtop and wine new bar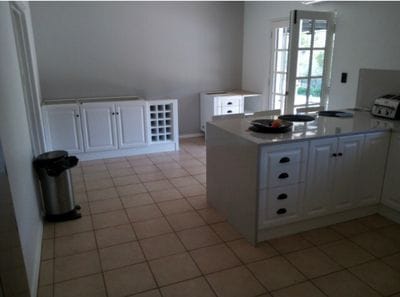 Want new door handles or drawers?
Want to convert a door to a drawer?
Want to convert a drawer to a door?
ANSWER : The answer is yes ISPS Innovations can do it!
Carcass peeling edges
BEFORE AFTER ISPS Restored edges.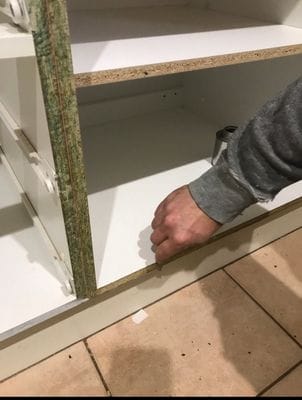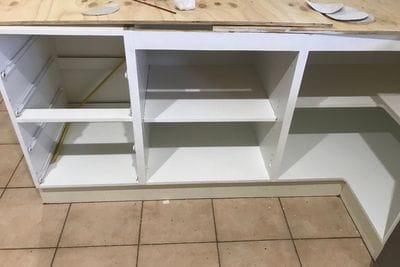 BEFORE: Edges open and peeling AFTER: ISPS restored peeling edges.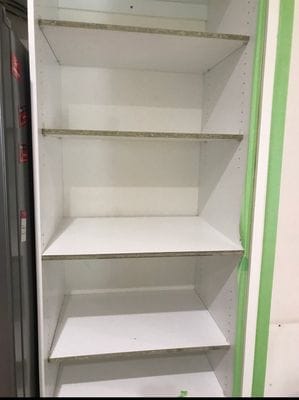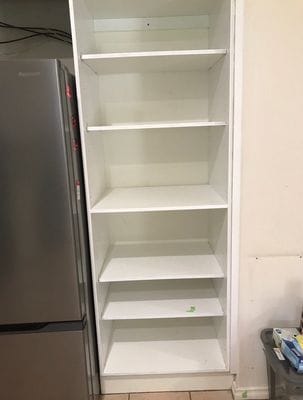 Are your carcass edges delaminating?
Is the aged chip board carcass exposed?
The release of fine particles from such dated finishes are not good for your health as micro particles float around and further injury from splinter or moisture retention and mould can occur. ISPS can repair and restore your exposed edges to a clean and finished edge.
Polyurethane 2Pac Finishes
2 Pac Polyurethane Finishes by ISPS Innovations provide flexibility and strength in particular during expansion and contraction variations, eliminating cracking and yellowing that can arise with other forms of coating applications, onsite resurfacing and resurfacing resins. Our2 Pac Polyurethane finishes provide a surface base that is harder dressed for wear and earths natural elements, lasting better than enamels, epoxy, acrylic resin finishes.
Fumes in your home during resurfacing your Kitchen
ISPS Innovations like a factory finish, we treat & resurface any removable panels at our factory floor. The product cures and then reinstated to their final resting place in your home or office. Any panels that require attention onsite areas are masked up and our coating formula applied on site, with no over spray & fast curing application eliminating overspray residue & slow curing emissions.
How long will my resurfaced door and drawer faces last?
Your resurfaced doors & drawers are treated and come with a 7 year warranty, more than some new kitchen warranties. The warranty covers you from colour fading and delamination from natural resting elements. There is no reason why your resurfaced door & drawer faces wouldn't last twice as long.
Benchtops in CulourTEK Creations By ISPS Innovations
CulourTek Benchtops are crafted and customised in any colour combination. Seamless waterfall edges & angles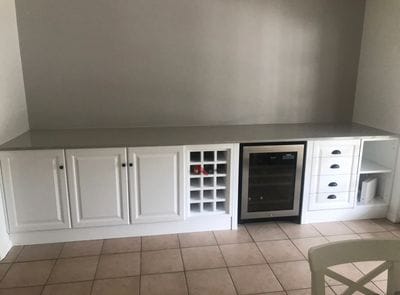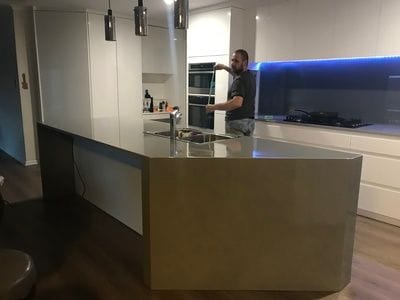 CulourTek Benchtops are a hand made finish, advancing any colour combination and gloss level as an elegant high end finish benchtop.
CulourTek creations add a superfluous element to any room. An appealing surface and amalgamation of grain efx stone flicks and grained radiance, timber, stone or marble look ISPS EFX paired with modern straight lines continuous length and right angles with the option of no joins with our benchtops. CulourTek Benchtops are available in satin, gloss and textured finish.
Hand made finishes, custom designed, manufactured and coloured in satin, gloss or textured finish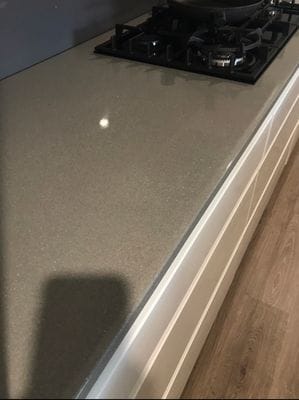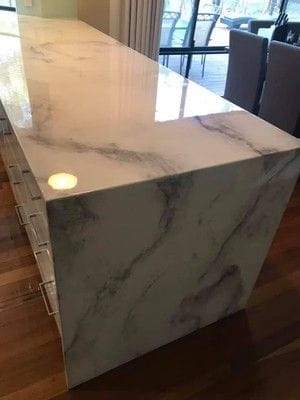 Hand made finishes, custom designed, manufactured and coloured in satin, gloss or textured finish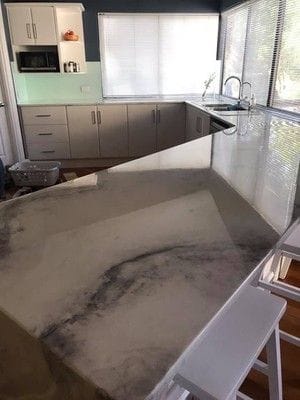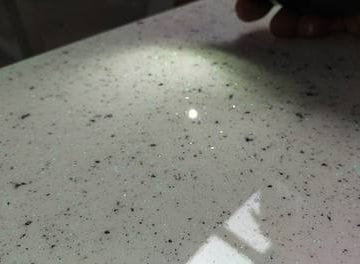 Hand made finishes, custom designed, manufactured and coloured in satin, gloss or textured finish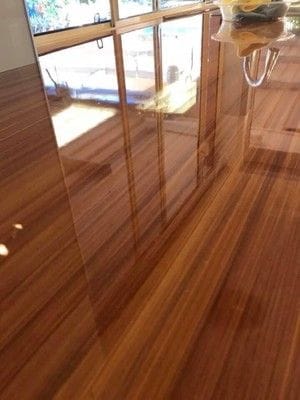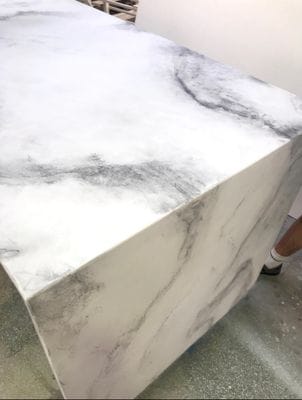 ISPS surfaces are durable, and trouble-free to clean and maintain. ISPS provide a 12 Year warranty. ISPS Innovations care about the environment & do not want our products going into landfill, with a new custom coloured CulourTek Benchtop ISPS Innovations provide a recolour service years on if your choose to refit the decor in your home or commercial project the service allows you to change the pattern colour and even shape of your CulourTEK benchtop & ISPS will provide a further 12 year Warranty.
Handmade custom designed and crafted CulourTEK Benchtop available in any colour and sheen
Seamless water fall edge. No join visible in benchtop edge.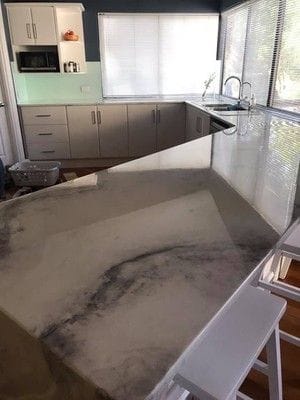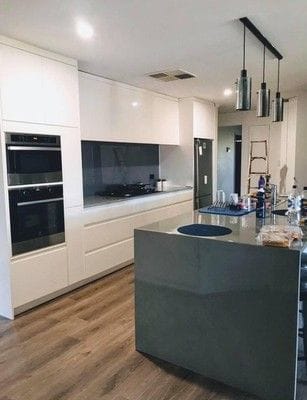 Benchtop 4000mm benchtop in 1 piece. 900 mm on far end and tapers into 700 mm depth near sink.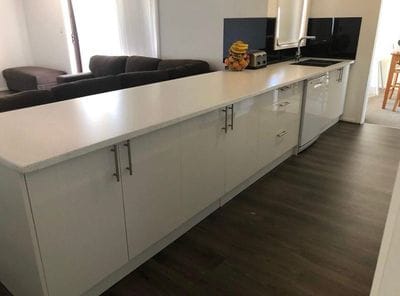 With CulourTEK benchtops you can Imagine, & create your designs, bringing them to life with ISPS Innovations.
High Gloss 2 Pac finished doors. Bonethane Polymer Splashbacks.
Splashbacks for kitchens, bathrooms, laundry, domestic and commercial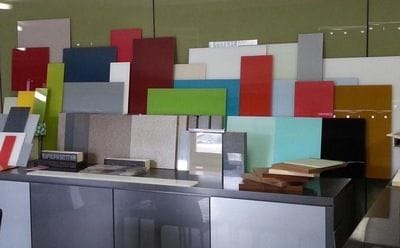 ISPS are colour specialists and able to provide glass and our polymer range of splashbacks to be toned to each other, saving you on glass splashbacks that do not need to be glass.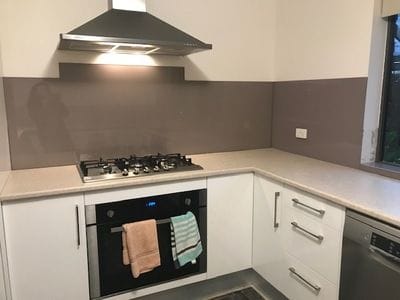 ISPS Innovations lead in 2pac polyurethane finishes for kitchen resurfacing, new kitchen builds, kitchen remodelling, custom coloured glass and polymer acrylic splashbacks, printed splashbacks and benchtops in any colour. ISPS Innovations manufacture for renovators, supplying Australian made building products all over Australia. ISPS Innovations provide a walk in service at our Lonsdale South Australia factory where you can book in and drop off cabinetry doors & drawers for resurfacing or have new kitchen doors & drawers made up. Our Australian custom made building products are used by builders, DIY renovators & specified by Architects and Designers for our robust performance and innovative build & colour customisation.
ISPS Innovations 4Renovators can provide door and drawer hardware, using Blum and Finista brands we can also assist with door handles.
We can provide custom made kitchen & Joinery with 12 year warranty or optional production line kitchens to suit a specific budget that carry a 7 year warranty.
We supply to Adelaide 5000, Sydney 2000, Queensland 4000, North Queensland 4000, Melbourne 3000, Perth, Tasmania 7000, Northern Territory 0800. Australian Made and built to last.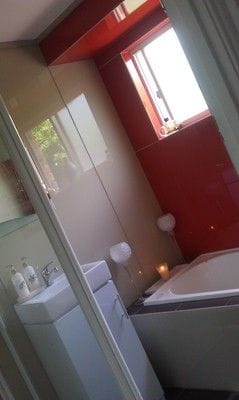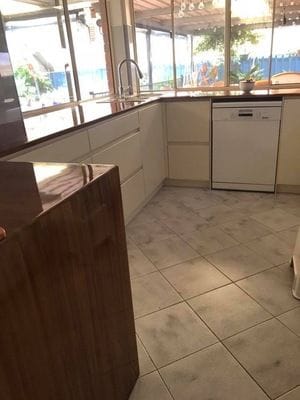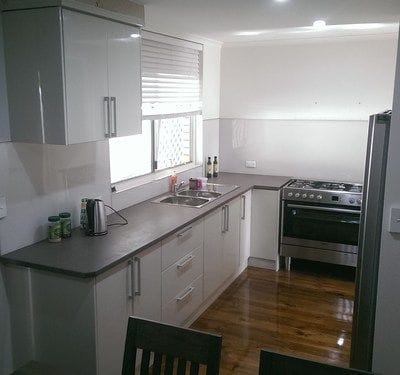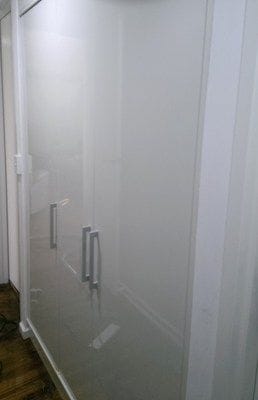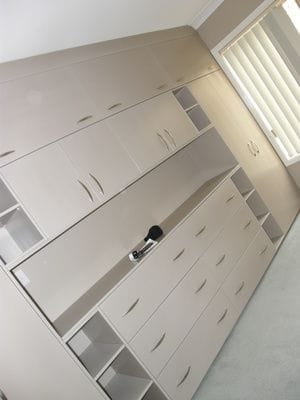 CALL 08 8381 8880 today!