Sign-Up for eNews
Join our mailing list for latest news and offers!
Jan 15 2020
Kitchen makeover , Kitchen Resurfacing or New Kitchen? ANNOUNCEMENT CORONAVIRUS, COVID19 : IS...
Dec 27 2019
Like Glass Acrylic Splashbacks 6mm x 2440 x 1220 sheet delivered for $571.00 ACT , Canberra ISP...

ISPS Innovations NEWS - SUPPLY AUSTRALIA WIDE CUSTOM Acrylic Splashbacks, Bonethane, CulourTEK Benchtops - our total range available in any colour & gloss level....
Customise you interior requests in any colour size and have it delivered to your state.
ISPS Innovations inspire the think & creative design step with our innovative colour face and colourback technologies. Our Acrylic Splashbacks, Acrylic Wall Panels, Kitchen Splashback, Laundry Splashback, Bathroom Shower Wall Panels, Feature Wall Panels, Printed Splashbacks, Kitchen Resurfacing (& New Kitchen) & Benchtop in CulourTEK Creations provide solutions for many categories and an unlimited colour range. Be inspired. Don't just buy plastic graded polymers or chip board laminate benchtops, choose ISPS Innovations. Refresh Renovations with ISPS Innovations.
Welcome to ISPS Innovations website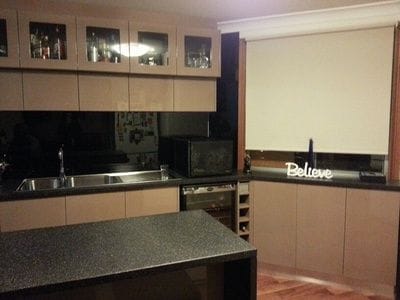 Your home to our creative splashback solutions & joinery. Bringing innovative splashback categories in Bonethane Premium high heat polymer sheeting in gloss or matte finish. IPA Acrylic splashbacks & bathroom wall panels, Printed Polymer Splashbacks and Wall Panels & CulourTek -Benchtop Kitchen Joinery Creations
ISPS Innovations produce hand made and crafted CulourTEK custom Bench-tops available in any colour in your choice of finishes and designs. Specialising in polyurethane doors & kitchen resurfacing in high gloss or satin finish. Let ISPS create your DREAM KITCHEN in solid 18mm construction with 32mm CulourTEK benchtop
Each request custom made to suit your application. Call one of our helpful team we can guide you through the colour design & application process. Where else will you find a broad range of splashback, benchtops and door options in any colour & in various substrates, suitable for every application.
Rule number 1 when choosing your splashback, benchtops & doors lay out your colour choices and be responsible for your choices decisions. Ensure that the colour pallette of each substrate you work with do not clash. Do not assume what colours your getting, ISPS Innovations provide alternative colour options, colour matching and samples prior to application.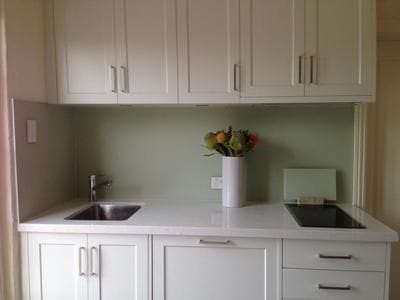 Check out this Farquhar Kitchen with our Bonethane Satin finish DIY splashback by ISPS Innovations
ISPS Innovations the MASTERS in DIY products making you the DIY MASTER! Call 08 8381 8880 or submit your enquiry through our enquiry screen.
Just some colours. Our range is unlimited!
Note: If your after the most vibrant white in your project then choose IPA Acrylic Sheeting by ISPS Innovations as Bonethane in an environment of whites can look or appear blue or grey ora. Colours to the left are Bonethane, colours to the right are or Acrylic graded material.

Posted on 16 November 2019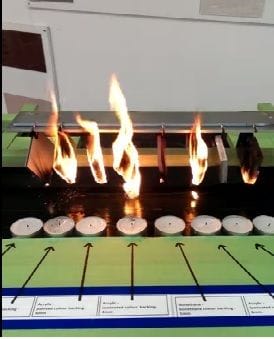 Are Acrylic Splashbacks heat resistant & how do you clean polymer acrylic splashbacks?
There is a range of polymer splashbacks in the market place which cover the same presence for the look of glass, but perform differently when it comes
the heat rating
saftey
ease of installation
longevity in performance.
Acrylic Splashbacks serve a great purpose for decorative luxury high gloss finishes for domestic and commercial environments in laundries, kitchens (not behind direct heat source) and bathrooms.
ISPS are the first to provide a polymer splashback called Bonethane High Heat Polymer that simply serves a higher heat application & is self extinguishing in the event of ignition.
Acrylic Splashbacks begin to buckle and change form when direct continous heat is at aproixmatley 90 C in close proximaty & will become lava at aproximatkey 150 to 160 C, a link demonstrating Bonethane's heat capacity can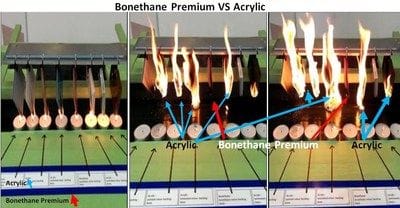 be seen here https://youtu.be/icl9VoH0_Vs in this video. Bonethane is 5th in the line up (from the left, red sample) and is lit on fire by a candle along with acrylic DIY splashbacks in the market place and other metal composite panels.
You will note Bonethane self extinguishes whilst the Acrylic Splashbacks burn with fury and high flame velocity.
You will also note that Bonethane does not catch on fire from the intense flames surrounding either side of the red Bonethane sample, yet the coloured Acrylic samples reach high flames and dripping lava.
If considering budget ISPS Innovations offer many splashback alternatives to provide a seamless splashback finish that is safe and elegant in appearance.
ISPS Innovations offer a range of Acrylic Splashbacks (PMMA), High Heat Polymer Splashbacks (Bonethane) & Toughened Glass Splashbacks for your domestic or commercial projects in any solid colour or as a printed splashback.
Our coloured and printed splashbacks are used in kitchens, laundries and bathrooms. ISPS Innovations provide a protective film over the backs of our printed polymer range to prevent silicone bleeding and tape bleeding impressions.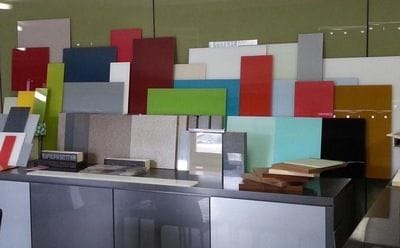 At ISPS its not about just printing or slapping some paint on a substrate, the products we manufacture must last and perform with the environments elements for the commercial and DIY market.
ISPS provide our well known coloured and printed toughened glass and printed acrylic splashbacks Australia wide.
Bonethane and IPA Acrylic products were familar to the Bunnings chains for almost a decade and a regular on Better Homes and Gardens, The Renovator & have been around the Block for our colour variety, ease of cutting and heat rating.
ISPS Innovations now supply our total range direct to Architects, Designers, Builders and DIY Renovators, custom coloured and optional cut to size on our total range of splashbacks, benchtops, kicthens and doors.
ISPS Innovations deliver our total range of Australian Made polymer and glass splashbacks Australia wide and we are licensed by Australian Made.
Splashback Options for Gas cooktops, Inductions cooktops & Electric cooktops: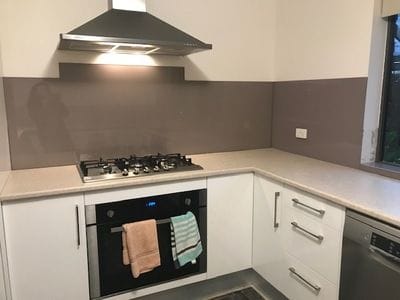 Induction and ceramic cooktops: Use Bonethane polymer splashback. toughened glass, tiles or stainless steel.
Gas Burners and cooktops : Use Toughened glass insert, tiles or stainless steel for behind gas burners.
Free standing Gas Burners with metal plate behind hob : Use toughened glass, Bonethane high heat polymer, tiles or stainess steel.
Larger Kitchens with gas burners, wanting a seamless look? Use toughened glass the length of the wall where gas cooktop rests or toughened glass insert behind gas burner and IPA Acrylic can be colour toned to glass to provide a uniformed finish for the balance of the surrounding area, saving you money and keeping up your glass appearance.
NOTE: when placing any polymer behind a gas burner and placing a stainless steel sheet in-front of the polymer, PLEASE NOTE: the metal substrates will work as a conductor of heat, it will not protect the polymer substrate behind the cooktop!!!! There are some foolish companies out to make a quick buck and will not advise unsuspecting consumers of this.
How do you clean Acrylic Splashbacks, & Bonethane Polymer Splashbacks?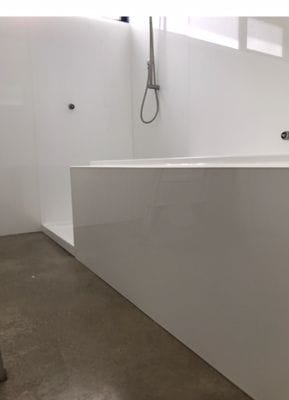 Acrylic Splashbacks and Bonethane Polymer Splashbacks are a treat to clean. Simply use warm soapy water, rinse residue and wipe wipe with a clean hot damp cloth. Both IPA Acrylic Splashbacks and Bonethane Splashbacks are designed to air dry and shine.
IPA Acrylic Splashbacks work wonders in bathrooms, laundries and kitchens, no mould and streak free when using our simple and effective cleaning methods and tips.
For more information on our total range of our AUSTRALIAN MADE Acrylic Splashbacks, Bonethane High Heat Polymer Splashbacks, Glass, Benchtops, Kitchen, Doors and Resurfacing, call ISPS Innovations today!
At ISPS Innovations we got you covered. Supplying Custom coloured & sized Acrylic Splashbacks, Wall Panels , Printed Splashbacks, Doors and Benchtops Australia wide to over 352 locations.
1. South Australia 5000
2. Melbourne Victoria 3000
3. Western Australia 6000
4. New South Wales 2000
5. Northern Territory 0800
6. Queensland 4000
7. Lonsdale South Australia 5160
8. Geelong Victoria 3220
9. Western Australia
10. New South Wales
11. Victoria
12. Townsville City Queensland 4810
13. Queensland
14. Coffs Harbour New South Wales 2450
15. Bendigo Victoria 3550
16. New South Wales
17. New South Wales
18. Brighton South Australia 5048
19. Brighton Victoria 3186
20. Castle Hill New South Wales 2154
21. Winnellie Northern Territory 0820
22. Hackham South Australia 5163
23. Seaford South Australia 5169
24. Noarlunga, Noarlunga Downs South Australia
25. Glenelg South Australia 5045
26. West Lakes Shore South Australia 5020
27. Golden Grove South Australia 5125
28. One Tree Hill South Australia 5114
29. Rostrevor South Australia 5073
30. Albury New South Wales 2640
31. New South Wales
32. Aberfoyle Park South Australia 5159
33. South Australia
34. Albert Park Victoria 3206
35. Aldinga South Australia 5173
36. Andrews Farm South Australia 5114
37. Athelstone South Australia 5076
38. Ascot Park South Australia 5043
39. Ashford, Kent, England
40. Banksia Park South Australia 5091
41. Ashford South Australia 5035
42. Belair South Australia 5052
43. Bellevue Heights South Australia 5050
44. Bedford Park South Australia 5042
45. Blair Athol South Australia 5084
46. Broadview South Australia 5083
47. Camden Park South Australia 5038
48. Clovelly Park South Australia 5042
49. Coromandel Valley South Australia 5051
50. Craigburn Farm South Australia 5051
51. Croydon Park New South Wales 2133
52. Croydon Park South Australia 5008
53. Dover Gardens South Australia 5048
54. Dudley Park Western Australia 6210
55. Dudley Park South Australia 5008
56. Eastwood South Australia 5063
57. Eastwood New South Wales 2122
58. Erindale South Australia 5066
59. Evandale South Australia 5069
60. Ferryden Park South Australia 5010
61. Firle South Australia 5070
62. Fulham Gardens South Australia 5024
63. Fullarton South Australia 5063
64. Gawler South Australia 5118
65. Glen Osmond South Australia 5064
66. Grange Hall, 2601 East Lake Avenue, Watsonville, California 95076
67. Hendon South Australia 5014
68. Holden Hill South Australia 5088
69. Huntfield Heights South Australia 5163
70. Kensington South Australia 5068
71. Kent Town South Australia 5067
72. Largs North South Australia 5016
73. Kings Park New South Wales 2148
74. Kings Langley New South Wales 2147
75. Toongabbie New South Wales 2146
76. Marino South Australia 5049
77. Melrose Park South Australia 5039
78. Nailsworth South Australia 5083
79. Seacliff Park South Australia 5049
80. Seaton South Australia 5023
81. Sellicks Beach South Australia 5174
82. South Brighton South Australia 5048
83. Valley View South Australia 5093
84. Woodville North South Australia 5012
85. Woodville Park South Australia 5011
86. Wynn Vale South Australia 5127
87. Yarra New South Wales 2580
88. Yarra City, Victoria
89. Carlton, Orleans County, New York
90. Docklands Victoria 3008
91. Flemington Victoria 3031
92. Kensington Victoria 3031
93. Hotham Grove, Box Hill Victoria 3128
94. East South Street, Victoria, Texas 77901
95. Balaclava Victoria 3183
96. Saint Kilda Victoria 3182
97. Cremorne New South Wales 2090
98. Cremorne Victoria 3121
99. Fitzroy North Victoria 3068
100. Princes Hill Victoria 3054
101. Boroondara City, Victoria
102. Balwyn North Victoria 3104
103. Camberwell Victoria 3124
104. Canterbury New South Wales 2193
105. Canterbury Victoria 3126
106. Hawthorn Victoria 3122
107. Bayswater Victoria 3153
108. Rowville Victoria 3178
109. Doncaster Victoria 3108
110. Templestowe Victoria 3106
111. Ringwood Victoria 3134
112. Geelong West Victoria 3218
113. Abbotsbury New South Wales 2176
114. Abbotsford New South Wales 2046
115. Alfords Point New South Wales 2234
116. Ashbury New South Wales 2193
117. Auburn New South Wales 2144
118. Allambie Heights New South Wales 2100
119. Avalon Beach New South Wales 2107
120. Austral New South Wales 2179
121. Annangrove New South Wales 2156
122. Arcadia New South Wales 2159
123. Artarmon New South Wales 2064
124. Burwood New South Wales 2134
125. Bundeena New South Wales 2230
126. Cabramatta New South Wales 2166
127. Chatswood New South Wales 2067
128. Cranebrook New South Wales 2749
129. Currans Hill New South Wales 2567
130. Fairfield New South Wales 2165
131. Greenwich New South Wales 2065
132. Green Valley New South Wales 2168
133. Greystanes New South Wales 2145
134. Gymea New South Wales 2227
135. Haberfield New South Wales 2045
136. Hoxton Park New South Wales 2171
137. Hurstville New South Wales 2220
138. Illawong New South Wales 2234
139. Ingleburn New South Wales 2565
140. Ingleside, San Patricio County, Texas
141. Jamisontown New South Wales 2750
142. Kangaroo Point Queensland 4169
143. Kangaroo Point New South Wales 2224
144. Kangaroo Point Road, Denicull Creek Victoria 3377
145. Kurnell New South Wales 2231
146. Kogarah New South Wales 2217
147. Kogarah Bay New South Wales 2217
148. Kingsgrove New South Wales 2208
149. Kingsford New South Wales 2032
150. La Perouse New South Wales 2036
151. Lidcombe New South Wales 2141
152. Lalor Park New South Wales 2147
153. Lansdowne New South Wales 2163
154. Lavender Bay New South Wales 2060
155. Leichhardt New South Wales 2040
156. Len Waters Estate New South Wales 2171
157. Leppington New South Wales 2179
158. London Borough of Lewisham, Greater London, England
159. Lilli Pilli New South Wales 2229
160. Lilyfield New South Wales 2040
161. Long Point New South Wales 2564
162. Lurnea New South Wales 2170
163. Macquarie Fields New South Wales 2564
164. Malabar New South Wales 2036
165. Marayong New South Wales 2148
166. Melrose Park New South Wales 2114
167. Middle Dural New South Wales 2158
168. Mortlake New South Wales 2137
169. Mulgoa New South Wales 2745
170. Narellan Vale New South Wales 2567
171. Newport New South Wales 2106
172. Neutral Bay New South Wales 2089
173. Queensland
174. Normanhurst New South Wales 2076
175. Turramurra New South Wales 2074
176. Wahroonga New South Wales 2076
177. Northwood New South Wales 2066
178. Parramatta New South Wales 2150
179. Northmead New South Wales 2152
180. Oxley Park New South Wales 2760
181. Old Toongabbie New South Wales 2146
182. Prospect New South Wales 2148
183. Potts Avenue, High Point, North Carolina 27260
184. Punchbowl New South Wales 2196
185. Quakers Hill New South Wales 2763
186. Queens Park New South Wales 2022
187. Queenscliff Victoria 3225
188. Queenscliff New South Wales 2096
189. Pyrmont New South Wales 2009
190. Raby New South Wales 2566
191. Rydalmere New South Wales 2116
192. Russell Lea New South Wales 2046
193. Rozelle New South Wales 2039
194. Rockdale New South Wales 2216
195. Rookwood New South Wales 2141
196. Rosemeadow New South Wales 2560
197. Rushcutters Bay New South Wales 2011
198. Ryde New South Wales 2112
199. Rodd Point New South Wales 2046
200. Sadleir New South Wales 2168
201. South Hurstville New South Wales 2221
202. Strathfield New South Wales 2135
203. Summer Hill New South Wales 2130
204. Surry Hills New South Wales 2010
205. Stanmore New South Wales 2048
206. Sydney Olympic Park New South Wales 2127
207. Sylvania Waters New South Wales 2224
208. Taren Point New South Wales 2229
209. The Rocks New South Wales 2000
210. Tennyson Point New South Wales 2111
211. Ultimo New South Wales 2007
212. Vaucluse New South Wales 2030
213. Vineyard New South Wales 2765
214. West Pennant Hills New South Wales 2125
215. West Hoxton New South Wales 2171
216. Wetherill Park New South Wales 2164
217. Wiley Park New South Wales 2195
218. Windsor Downs New South Wales 2756
219. Willmot New South Wales 2770
220. Yagoona New South Wales 2199
221. Yennora New South Wales 2161
222. Zetland New South Wales 2017
223. Queensland
224. Bowen Hills Queensland 4006
225. East Brisbane Queensland 4169
226. Fortitude Valley Queensland 4006
227. Herston Queensland 4006
228. New Farm, 7704 New England Highway, Tenterfield New South Wales 2372
229. Teneriffe Queensland 4005
230. Spring Hill Queensland 4000
231. Woolloongabba Queensland 4102
232. West End Queensland 4101
233. Albion Queensland 4010
234. Carseldine Queensland 4034
235. Clayfield Queensland 4011
236. Chermside West Queensland 4032
237. Gordon Park, Cleveland, Ohio 44103
238. Nundah Queensland 4012
239. Newmarket Queensland 4051
240. Kedron Queensland 4031
241. Grange Queensland 4051
242. Aspley Queensland 4034
243. Acacia Ridge Queensland 4110
244. Greenslopes Queensland 4120
245. Moorooka Queensland 4105
246. Mount Gravatt Queensland 4122
247. Fairfield Queensland 4103
248. Yeronga Queensland 4104
249. Yeerongpilly Queensland 4105
250. Stretton Queensland 4116
251. Balmoral Queensland 4171
252. Bulimba Queensland 4171
253. Hemmant Queensland 4174
254. Moreton Island Queensland 4025
255. Ransome Queensland 4154
256. Seven Hills New South Wales 2147
257. Seven Hills Queensland 4170
258. Wynnum Queensland 4178
259. Tingalpa Queensland 4173
260. Kenmore Hills Queensland 4069
261. Toowong Queensland 4066
262. Middle Park Queensland 4074
263. Riverhills Queensland 4074
264. Karana, 423 Leahys Road, Ranges Bridge Queensland 4405
265. Jindalee Queensland 4074
266. Fig Tree Pocket Queensland 4069
267. Anstead Queensland 4070
268. Pullenvale Queensland 4069
269. The Gap Queensland 4061
270. Westlake Queensland 4074
271. Ipswich Queensland 4305
272. Leichhardt Queensland 4305
273. North Tivoli Queensland 4305
274. Woodend Victoria 3442
275. Woodend Queensland 4305
276. Mount Forbes Queensland 4340
277. Walloon Queensland 4306
278. Daisy Hill Queensland 4127
279. Forestdale Queensland 4118
280. Forest Dale, 45 Olivers Road, Quandary New South Wales 2665
281. Kagaru Queensland 4285
282. Park Ridge South Queensland 4125
283. Underwood Queensland 4119
284. Woodhill Queensland 4285
285. Woodridge Queensland 4114
286. Yarrabilba Queensland 4207
287. Loganlea Queensland 4131
288. Loganholme Queensland 4129
289. Alexandra Hills Queensland 4161
290. Karragarra Island Queensland 4184
291. Redland Bay Queensland 4165
292. Russell Island Queensland 4184
293. Thorneside Queensland 4158
294. Albany Creek Queensland 4035
295. Everton Hills Queensland 4053
296. Margate Queensland 4019
297. Elimbah Queensland 4516
298. Woody Point Queensland 4019
299. Cedar Creek Queensland 4520
300. Queensland
301. Mackay Queensland 4740
302. Port Douglas Queensland 4877
303. Kuranda Queensland 4881
304. Craigie Western Australia 6025
305. Alfred Cove Western Australia 6154
306. Ardross Western Australia 6153
307. Ascot Western Australia 6104
308. Armadale Western Australia 6112
309. Ashfield Western Australia 6054
310. Stirling Western Australia 6021
311. Banksia Grove Western Australia 6031
312. Banjup Western Australia 6164
313. Beaconsfield Western Australia 6162
314. Beckenham Western Australia 6107
315. City of Swan, Western Australia
316. Cockburn South Australia 5440
317. City of Cockburn, Western Australia
318. Beeliar Western Australia 6164
319. Beldon Western Australia 6027
320. Bentley Western Australia 6102
321. Bellevue Western Australia 6056
322. Joondalup Western Australia 6027
323. Melville Western Australia 6156
324. Kalamunda Western Australia 6076
325. Cannington Western Australia 6107
326. East Perth Western Australia 6004
327. Eden Hill Western Australia 6054
328. Town of Victoria Park, Western Australia
329. Landsdale Western Australia 6065
330. Leda Western Australia 6170
331. Medina Western Australia 6167
332. Rockingham Western Australia 6168
333. Scarborough Western Australia 6019
334. Fremantle Western Australia 6160
335. South Guildford Western Australia 6055
336. Woodvale Western Australia 6026
337. Battery Point Tasmania 7004
338. Lenah Valley Tasmania 7008
339. Moonah Tasmania 7009
340. Goodwood South Australia 5034
341. Goodwood Tasmania 7010
342. Rosetta Tasmania 7010
343. Hobart Tasmania 7000
344. Devonport Tasmania 7310
345. Burnie Tasmania 7320
346. Tasmania
347. Bayview Northern Territory 0820
348. Eaton Northern Territory 0820
349. Parap Northern Territory 0820
350. Palmerston City Northern Territory 0830
351. Brinkin Northern Territory 0810
352. Stuart Park Northern Territory 08
| | |
| --- | --- |
| Posted in:Architects Interior Designers ISPS InnovationsCritical Colour Matching Durable Surfaces ISPS InnovationsPrinted Splashbacks and Wall PanelsDIY Acrylic Splashbacks IPA Acrylic Splashbacks, Bonethane Premium Splashbacks & Wall Panels, ColourBunnings SplashbacksReal Estate AgentsBuildersBuilding MaterialsCustom Kitchen Builders Adelaide locally owned nationally supplied by ISPS InnovationsAcrylic Splashbacks for Kitchens,Bathrooms, LaundriesInnovative Splashbacks & Polymer Systems By ISPS InnovationsOffice Supplies, Tablet Stands - By ISPS InnovationsTips to choosing your DIY Acrylic Splashback by ISPS InnovationsAcid etched glass toughenedSelector Acrylic SplashbacksWaste, Recycle,Reduce Landfill,Energy RecoveryBrick painting, Brick and Stone refreshAustralian Standard Building MaterialsBunnings Warehouse Acrylic SplashbacksAcrylic Splashback InnovativeInterior Desinger, Architects,Pantone coloursAcrylic SplashbacksBonethane PremiumISPS InnovationsSplashbacksKitchen & Joinery Custom & InstalledColourTek Benchtops, Wall Panels and PartitionsCut to size Acrylic Splashbacks and custom joinery, kitchens, benchtops | |