Posted in Selector Acrylic Splashbacks
Posted on 2 December 2021

Coloured & Printed Splashbacks with GRIPTEK barrier backing – Heat & Marine grade for Commercial & Domestic application.
New Range of Art Painted Splashbacks converted into printed splashbacks by ISPS Innovations


New range of Painted Art converted to printed splashbacks by ISPS Innovations
ISPS Innovations take pride in our decorative custom painted & printed polymer splashbacks & wall panels.
ISPS have formulated a marine grade neutral cure colour application, GripTek barrier backing™, that covers the rear of our digital printed splashbacks & spray-painted splashbacks preventing damage to the backs of our polymer sheets Griptek barrier backing™
---
GRIPTEK barrier backing™ protects the backs of painted & printed splashbacks.


Commercial & Domestic Printed Splashbacks with GripTek barrier backing ™
IPA Acrylic printed splashbacks & Bonéthane, are suitable for showers, kitchens, laundries, wet areas, used for commercial projects, & domestic DIY home renovations. If other printed splashback suppliers advise their printed splashbacks are waterproofed asked them how the rear of the splashback is protected and have them demonstrate the protective back durability.
ISPS Printed splashbacks & coloured splashbacks are sealed, waterproofed preventing damage to the backs of our polymer sheets with ISPS one of a kind marine grade backing formulae Griptek barrier backing™
Our Printed Acrylic splashbacks, are printed to the rear of our polymer sheets & glass panels. Unlike face printed splashbacks that will scratch off, if knocked.
Our printed splashbacks & painted splashbacks are proudly Australian made.
Being rear printed splashbacks provides a realistic depth & naturalness. Printed acrylic splashbacks are cheaper than printed glass splashbacks. Our Innovative Designer Splashbacks are not ordinary but extraordinary, turning your high-resolution image into a luxury printed splashback masterpiece for everyone to adorn. What is more, our printed & painted polymer splashbacks are waterproofed with a protective marine grade barrier backing applied to the rear of the sheet called GRIPTEK barrier backing, quality tested since 1998 & now applied to our painted & printed splashbacks.
ISPS Printed Splashbacks have the highest resolution using the state-of-the-art printing technology for our polymer acrylic printed splashbacks, Bonethane Printed Splashbacks & IPA Acrylic Printed Splashbacks coupled with our GRIPTEK barrier backing formula designed to protect the painted & printed finish applied to the backs of our sheets. Our glass printed splashbacks don't require GRIPTEK as these are protected when heat treated after printing.


Bonethane Splashbacks a high heat polymer available in any colour & print


ISPS custom coloured & printed splashbacks in our new kitchen build
ISPS Innovations can print or paint to other substrates like PLEXIGLAS or Perspex on request, GRIPTEK barrier backing™ is not available on these substrates. GRIPTEK barrier backing™ is apart of IPA Acrylic & Bonéthane high heat polymer sheets, these sheets have been successfully servicing the domestic & commercial industry since 2000 & the right choice for your polymer splashbacks.
Printed & Painted splashback warranties general screen-printing & spray-painting processes allow a 1–2-year warranty, prone to silicone bleeds in the face of the sheet. Other printed acrylic splashback providers, run with warranties of well-known PMMA Acrylic like PLEXIGLAS or Perspex to bring merit to their product, but the applicated product will never be covered under the "brands" warranty once altered. ISPS IPA Acrylic & Bonéthane, come with a 7-year structural warranty extended to a 10-year warranty when installed by our simple installation process IPA Acrylic & Bonéthane is the trusted polymer splashback brand for Architects, Designers and DIY Renovators.
See the damage caused to Printed Splashbacks for a commercial fit out in a chain of fuel stations.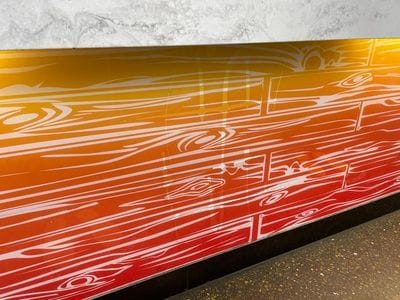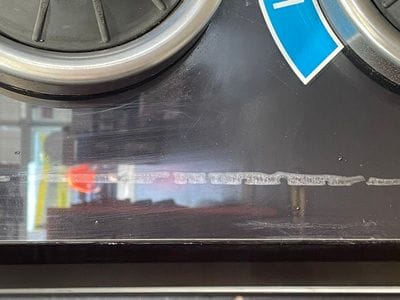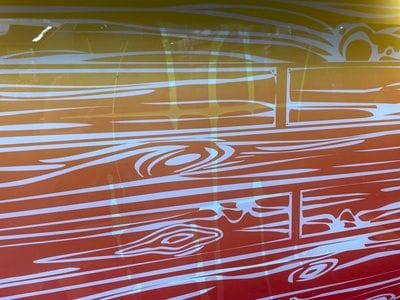 Silicone Bleeding from non protected printed backs


Bonéthane Splashbacks - suitable for induction, ceramic & free-standing gas cooktops
Bonéthane is designed to go behind induction, ceramic cooktops & free-standing gas hobs where metal insulator is present to the rear of the cooktop with a 60 mm clearance for airflow. Bonéthane can also be placed behind benched gas hobs where you have a 200 mm clearance from the extension of the flame, the only way to achieve this is to have a deeper benchtop greater than 600 mm depth, ISPS Innovations also supply custom coloured CulourTek Benchtops™ as a part of our range.
If you require further information, please do not hesitate to call 08 8381 8880. ISPS Innovations nationally supply our total range Australia wide & proudly Australian made.
ISPS Innovations the right choice for your painted & printed splashbacks
ISPS Printed Splashbacks & Painted Splashbacks Innovative Splashback Polymer Systems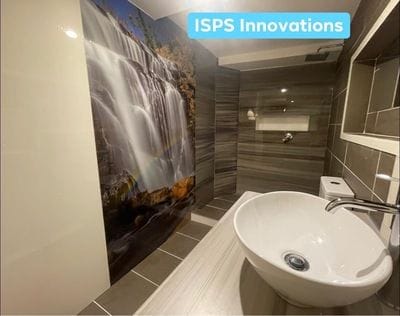 Custom Printed & Painted Splashbacks New Timber EFX Splashbacks - custom colour combination
What is GRIPTEK barrier backing on polymer IPA Acrylic Bathroom Wall Panels and Bonethane Splashbacks
GRIPTEK Backing eliminates the unsightly wear of silicone marks or the delaminating of colour coatings once mounted to the wall.
You do not need to PREP wall a neutral colour or sand the back of ISPS Acrylic polymer sheets before you place your IPA Acrylic up on the wall.
GripTek Barrier Backing creates greater colour depth and colour consistency for colour and printed splashbacks.
IPA painted Acrylic with GRIPTEK barrier backing can also be removed off the wall without damaging the integrity of the colour on the backs of our IPA acrylic sheet.
Acrylic Splashbacks in IPA Acrylic and Bonethane with GRIPTEK barrier backing eliminates unsightly neutral cure silicone bleeds which happens from expansion and contraction.
Acrylic Splashbacks with GRIPTEK barrier backing saves time and costs in wall preparation when installing IPA Acrylic sheeting over water proofing.
GRIPTEK is not available on Zenolite, Vistelle, Bellessi or PLEXGLAS, GRIPTEK on the backs of ISPS brands prevents sanding the backs of the sheets and neutral cure clear silicone bleeding.
GRIPTEK is not a substitute for water proofing in shower areas.
IPA Acrylic splashbacks & Bonethane Splashbacks are 100% water proofed, but you still need to protect your walls from internal water damage with a good water proof coating.
Australian made. www.ispsinnovations.com.au ISPS The Original & the best Polymer Splashbacks
ISPS Innovations manufacture & supply Australia wide. Phone 08 8381 8880.
Copyright 2021 ISPS Innovations
IPA Acrylic & Bonéthane & VetroPoly Glass are supplied , painted, printed or with ISPS EFX. National Delivery