Sign-Up for eNews
Join our mailing list for latest news and offers!
Jan 15 2020
Kitchen makeover, Kitchen Resurfacing or New Kitchen? ANNOUNCEMENT CORONAVIRUS, COVID19 : ISPS a...
Dec 27 2019
Like Glass Acrylic Splashbacks 6mm x 2440 x 1220 sheet delivered for $571.00 ACT , Canberra ISP...

ISPS Innovations NEWS - SUPPLY AUSTRALIA WIDE CUSTOM Acrylic Splashbacks, Bonethane, CulourTEK Benchtops - our total range available in any colour & gloss level....
Customise you interior requests in any colour size and have it delivered to your state.
ISPS Innovations inspire the think & creative design step with our innovative colour face and colourback technologies. Our Acrylic Splashbacks, Acrylic Wall Panels, Kitchen Splashback, Laundry Splashback, Bathroom Shower Wall Panels, Feature Wall Panels, Printed Splashbacks, Kitchen Resurfacing (& New Kitchen) & Benchtop in CulourTEK Creations provide solutions for many categories and an unlimited colour range. Be inspired. Don't just buy plastic graded polymers or chip board laminate benchtops, choose ISPS Innovations. Refresh Renovations with ISPS Innovations.
Welcome to ISPS Innovations website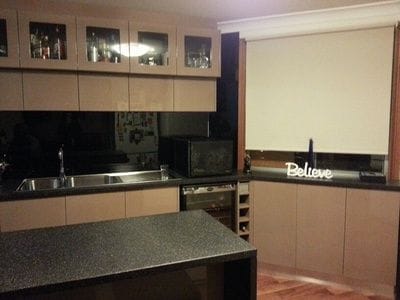 Your home to our creative splashback solutions & joinery. Bringing innovative splashback categories in Bonethane Premium high heat polymer sheeting in gloss or matte finish. IPA Acrylic splashbacks & bathroom wall panels, Printed Polymer Splashbacks and Wall Panels & CulourTek -Benchtop Kitchen Joinery Creations
ISPS Innovations produce hand made and crafted CulourTEK custom Bench-tops available in any colour in your choice of finishes and designs. Specialising in polyurethane doors & kitchen resurfacing in high gloss or satin finish. Let ISPS create your DREAM KITCHEN in solid 18mm construction with 32mm CulourTEK benchtop
Each request custom made to suit your application. Call one of our helpful team we can guide you through the colour design & application process. Where else will you find a broad range of splashback, benchtops and door options in any colour & in various substrates, suitable for every application.
Rule number 1 when choosing your splashback, benchtops & doors lay out your colour choices and be responsible for your choices decisions. Ensure that the colour pallette of each substrate you work with do not clash. Do not assume what colours your getting, ISPS Innovations provide alternative colour options, colour matching and samples prior to application.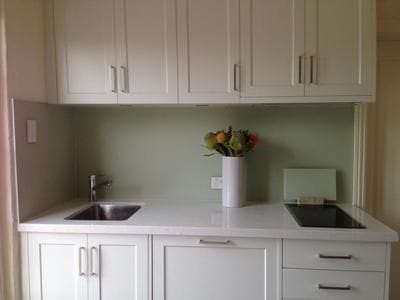 Check out this Farquhar Kitchen with our Bonethane Satin finish DIY splashback by ISPS Innovations
ISPS Innovations the MASTERS in DIY products making you the DIY MASTER! Call 08 8381 8880 or submit your enquiry through our enquiry screen.
Just some colours. Our range is unlimited!
Note: If your after the most vibrant white in your project then choose IPA Acrylic Sheeting by ISPS Innovations as Bonethane in an environment of whites can look or appear blue or grey ora. Colours to the left are Bonethane, colours to the right are or Acrylic graded material.

Posted on 8 September 2015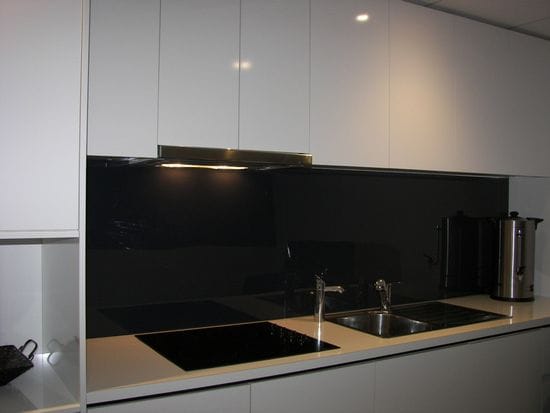 Reviews, what makes ISPS Innovations Polymer Splashbacks Different & Superior?
Bonethane High Heat Polymer, Acrylic Printed Splashbacks & more!
ISPS Innovations F & B
GRIPTEK Backing
Enhance any colour backing depth
Outdoor worthy/UV Regulated
Print to Bonethane or IPA Acrylic optional.
Can place lighting behind sheet without GripTek to bring images to light & life!
Perfect for displays, signage and splashbacks.
100% water proofed, no vinyl wrapping, we use GRIPTEK
ISPS create combination colour EFX
Available in any colour & Cut to size. Quality tested since 1998
ISPS work with Interior Designers, Architects, Builders and DIY Renovators
We custom make any colour benchtops,partitions & doors, non porous, no joins on request.
Our Polymer Splashback range are available to you custom made in any colour radiating the sentiment of glass. Our Bonethane, PMMA/Acrylic Polymers, Glass & additional CulourTek building materials are unsurpassed in quality testing and working history. ISPS have catered for every request with the highest recommendations from past & present clients like, Bunnings, Wendy's, ANZ, Priceline, just to name a few. Featured in 10's the Renovator with the amazing Barry Dubois & theTeam at Better Homes & Gardens.
Why are ISPS Innovations Polymer Splashbacks different?
We have an innovative splashback polymer range fit for any space to cover a broad range of specifications.
What ISPS Innovations create is innovative custom splashbacks and interiors in any colour size and shape.
Our experience with major supply chains, designers and specifiers has helped ISPS pave the way to pioneering solutions with no limits. ISPS pass all stops leading in innovation. Our range: Bonethane®, IPA Acrylic Splashbacks & CulourTek Benchtop & Building Creations to name a few uniquely position far above the expectation of our clients for their elegant look, warranties, durability, never-ending colour options & re-colour processes.
Bonethane Premium is a true glass alternative, a high heat polymer splashback suitable for indoors and outdoors, UV regulated available in any colour with superior GripTek backing. Bonethane will not split or crack when cutting and is self extinguishing. Architects, Designers and DIY Renovators are amazed by Bonethane's ease of cutting and application. You could be there for days installing tiles. Bonethane is 38% faster to install than glass and acrylic splashbacks in:
Cutting
Drilling
Repairing
Weathering
Application
Preparation
IPA Acrylic Splashback Sheeting
IPA Acrylic Splashbacks articulates many wonderful attributes, using quality PMMA acrylic sheeting. Be the selector of our hard wearing ISPS Innovation Acrylic surfaces that make great use
for the following areas and applications ;
Laundries,Gymnasiums,Spa Surrounds,Table tops,Digital Printed Panels & Photos,UnderBarsShelves,Photos that look life like,Commercial Shop front Displays,Corporate Signage,Projector Screens,Luxury Bathroom Splashbacks,Display Menu,Vanities,Showers,White Boards,Commercial and domestic applications
Feature and Benefits of PMMA / IPA Acrylic Sheeting
Superior surface
Non yellowing
Available cut to size & shape
Any colour & digital print
Suitable for all wet areas
Optional GripTEK Backing
Australian Made
17 times stronger than glass
ISPS Innovations provide a national delivery service.
Our Polymers are available in
high gloss
satin finish
any colour
combination colour EFX
Metallic
Digital print with optional GripTek backing
ISPS Innovations can create any colour or colour combination. Our products have been quality tested since 1998 and featured on renovating platforms for its ease in installation and amazing colour options. We are proudly Australian made and owned.
Can you pick the difference? Bonethane Vs Glass VS Acrylic Splashbacks ?
Bonethane sheets come with GripTek backing.
GripTek eliminates the unsightly wear of silicone marks or the delaminating of coatings through the course of the sheet once mounted to the wall. Have you ever seen the bleeding of this process in a
shopping centre shop displays with polymers or glass? This is a shop fitters nightmare!
GripTek also creates greater depth of colour & consistency to that of conventional sprayed acrylic sheeting.
GripTek saves time in preparation to your walls. With Acrylic Splashbacks in the market a number of steps to prepare the wall must be adhered to before placement, Bonethane will save in install, preparation of walls saving you $$$$ please visit our website below for more information. GripTEK is available on IPA Acrylic sheets by request.
Bonethane is 38% faster to install than Glass and Acrylic and is lighter than Acrylic & Glass with higher impact resistance allowing Bonethane to weather well outdoors making us #1 for our polymer uses and applications.
Graffitti Proof Bonethane Splashbacks and Signage
Click here Bonethane & CulourTek creations carry the esteemed product of Australia Logo. IPA Acrylic carries Australian made logo.
Scratches can be easily removed.
Sustainability attributes
IPA Acrylic Locally made, Bonethane Product of Australia. Our Polymers are Recyclable into Bonethane10. Production waste is recyclable. Packaging condensed.
Digital Printed Splashbacks in Acrylic and Bonethane
DigitalART Printed & coloured polymer splashbacks and wall panels with GRIPTEK backing technology By ISPS Innovations
With our printed splashbacks you can purchase from Shutter Stock or IStock Photos & create your digitalArt image masterpiece.
You may have your own image. Simply produce a high resolution format of 300 DPI, EPS or Vector file. ISPS will work with you to produce your DigitalArt printed splashback, wall panel or feature indoor or outdoor representation. ISPS Innovations have graphic designers and our esteemed photographer on board for complicated requests.
Straight forward and simple. ISPS Innovations are available 7 days a week till 9pm.
Burn test Bonethane VS Acrylic Splashbacks candle burn test
Click Here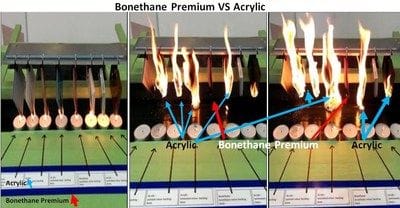 Bonethane goes head to head under a flame with Acrylic substrates in the market, see the destruction a simple candle can causes. Bonethane is 5th in the line up, red sample.
From humble beginnings the Director of ISPS Innovations has always lead in innovations, with unique products & proven performance. Successfully supplying Bunnings from 2007 to 2014, ISPS Innovations are excited about our expansion into the interior market and bring our superior product range direct to your destination.
ISPS Innovations provide YOUTUBE videos in real time without all the fancy music cutting and editing to showcase our products versatility. ISPS work with industry professionals, provide experience with colour guidelines and create samples for review prior to commercial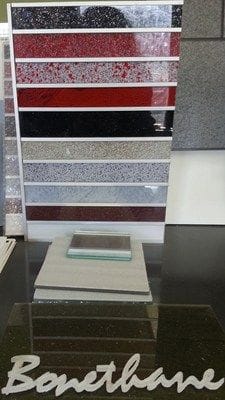 application

Feature and Benefits of Bonethane Premium Splashbacks.
Designed to have the same cutting fabrication as MDF
Can be cut drilled and planned on site
Available in any colour, metallic, ISPS EFX and Digital print with GRIPTEK backing
Totally water proofed including digital printed images, comes with GRIPTEK (not vinyl wrap)
Bonethane does not split or crack like Acrylic when cutting, drilling and planning.
Friendly for DIY Enthusiasts and DIY Devotees.
38% faster to install than Acrylic and Glass
Suitable for out doors UV regulated
Lighter than Acrylic to carry
Twice the heat rating of Acrylic
Graffiti Proof https://www.youtube.com/watch?v=DqFvMjx2jqY
Self Extinguishing https://www.youtube.com/watch?v=icl9VoH0_Vs
Power holes can be drilled into the face of the sheet, even after installation.
You can drill to the edges
Great for corporate signage or feature displays
Greater heat distribution and electrical resistance making it perfect for hospitals and
laboratories.
Critical Strength, impact and breakage defiant.
Can be 100 % fully recycled in to Bonethane10
Exceptional acoustic insulation.
Low weight
Superior strength.
Product of Australia
If your future projects have significant shifts in their foundation, Bonethane sheets can be removed from walls years on without breaking. This means wall can be repaired and original sheet can be replaced. Where acrylic, tiles and glass will crack, Bonethane bows forward allowing the opportunity to remove from the wall and then replace.
True glass Alternative
Filler EFX (image to right, any colour combination design)
Bonethane Splashbacks everything else is just plastic
Call us today we would love to hear from you! See our amazing CulourTeK creations, any colour benchtops doors and partitions.
Where custom quality building materials, designs & colour are created through your vision & ISPS's Innovations.
By Theresa Leonardos. National Operations Manager for ISPS Innovations
Ph 08 8381 8880
View our Blogg page @ ispsinnovations.com.au
Proudly Australian Made and owned.
www.ispsinnovations.com.au
© ISPS Innovations. All rights reserved, logos, copyright, images are trademarks of ISPS Innovations & Ferretti Designer Interiors ABN 25132474189 unless specified otherwise.

| | |
| --- | --- |
| Posted in:Architects Interior Designers ISPS InnovationsDIY Bathroom Splashbacks and Wall Panels by ISPS InnovationsDIY Acrylic Splashbacks IPA Acrylic Splashbacks, Bonethane Premium Splashbacks & Wall Panels, ColourReal Estate AgentsBuildersBuilding MaterialsAcrylic Splashbacks for Kitchens,Bathrooms, LaundriesInnovative Splashbacks & Polymer Systems By ISPS InnovationsOffice Supplies, Tablet Stands - By ISPS InnovationsTips to choosing your DIY Acrylic Splashback by ISPS InnovationsWaste, Recycle,Reduce Landfill,Energy RecoveryInterior Desinger, Architects,Pantone coloursAcrylic SplashbacksBonethane PremiumISPS InnovationsSplashbacksKitchen & Joinery Custom & InstalledColourTek Benchtops, Wall Panels and PartitionsCut to size Acrylic Splashbacks and custom joinery, kitchens, benchtops | |