Sign-Up for eNews
Join our mailing list for latest news and offers!
Jan 15 2020
Kitchen makeover, Kitchen Resurfacing or New Kitchen? ANNOUNCEMENT CORONAVIRUS, COVID19 : ISPS a...
Dec 27 2019
Like Glass Acrylic Splashbacks 6mm x 2440 x 1220 sheet delivered for $571.00 ACT , Canberra ISP...

ISPS Innovations NEWS - SUPPLY AUSTRALIA WIDE CUSTOM Acrylic Splashbacks, Bonethane, CulourTEK Benchtops - our total range available in any colour & gloss level....
Customise you interior requests in any colour size and have it delivered to your state.
ISPS Innovations inspire the think & creative design step with our innovative colour face and colourback technologies. Our Acrylic Splashbacks, Acrylic Wall Panels, Kitchen Splashback, Laundry Splashback, Bathroom Shower Wall Panels, Feature Wall Panels, Printed Splashbacks, Kitchen Resurfacing (& New Kitchen) & Benchtop in CulourTEK Creations provide solutions for many categories and an unlimited colour range. Be inspired. Don't just buy plastic graded polymers or chip board laminate benchtops, choose ISPS Innovations. Refresh Renovations with ISPS Innovations.
Welcome to ISPS Innovations website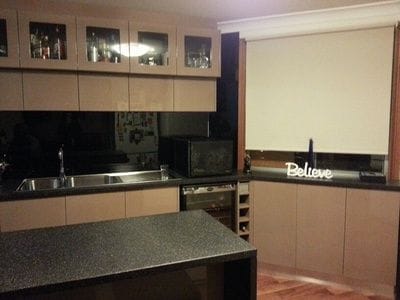 Your home to our creative splashback solutions & joinery. Bringing innovative splashback categories in Bonethane Premium high heat polymer sheeting in gloss or matte finish. IPA Acrylic splashbacks & bathroom wall panels, Printed Polymer Splashbacks and Wall Panels & CulourTek -Benchtop Kitchen Joinery Creations
ISPS Innovations produce hand made and crafted CulourTEK custom Bench-tops available in any colour in your choice of finishes and designs. Specialising in polyurethane doors & kitchen resurfacing in high gloss or satin finish. Let ISPS create your DREAM KITCHEN in solid 18mm construction with 32mm CulourTEK benchtop
Each request custom made to suit your application. Call one of our helpful team we can guide you through the colour design & application process. Where else will you find a broad range of splashback, benchtops and door options in any colour & in various substrates, suitable for every application.
Rule number 1 when choosing your splashback, benchtops & doors lay out your colour choices and be responsible for your choices decisions. Ensure that the colour pallette of each substrate you work with do not clash. Do not assume what colours your getting, ISPS Innovations provide alternative colour options, colour matching and samples prior to application.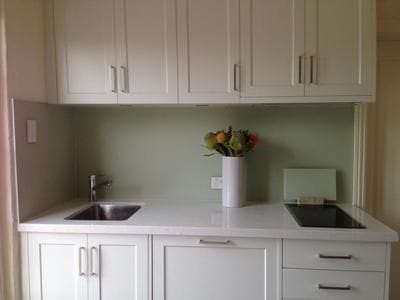 Check out this Farquhar Kitchen with our Bonethane Satin finish DIY splashback by ISPS Innovations
ISPS Innovations the MASTERS in DIY products making you the DIY MASTER! Call 08 8381 8880 or submit your enquiry through our enquiry screen.
Just some colours. Our range is unlimited!
Note: If your after the most vibrant white in your project then choose IPA Acrylic Sheeting by ISPS Innovations as Bonethane in an environment of whites can look or appear blue or grey ora. Colours to the left are Bonethane, colours to the right are or Acrylic graded material.

Posted on 8 October 2015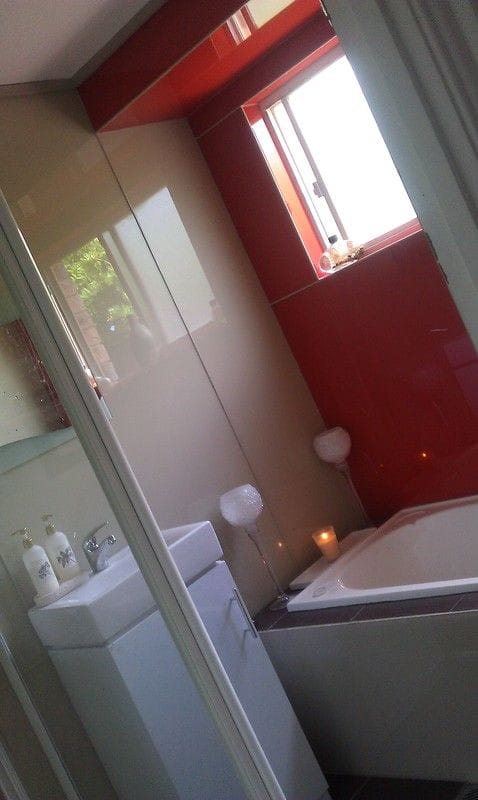 7 Tips to choosing the right colour collaboration for your next renovation or fit-out.
The mystery of shades & white on white.
Choosing the right shade? The mystery of white on white. There are so many variations of white, which create colour differences from the purest of white falling into greys and yellows. When choosing the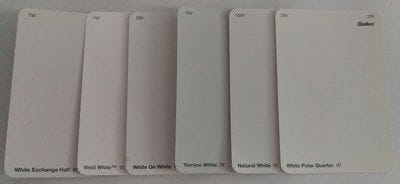 right white or any colour shade for your interior, architectural project & renovation, colour deliberation must be prearranged.
ISPS Innovations can discuss at the length varying options and choices to collaborate the right white for your interior project. If you require the purest of whites for your splashback, then ISPS will suggest our IPA Acrylic sheeting as our whites on Bonethane can look more of a grey, similar to "Dulux Terrace White" (or there about).
What needs to be understood, when paint or colour comes out of the pot, the colour in the tin is not going to be the same on the wall, joinery or clear substrate it is being applied to. There are a number of elements to contend with. Firstly the substrate it's being applied to. This could be the face of the material then there is coverage, absorbency, depth to consider . The challenges with other substrates such as glass, acrylic and polymers is that the colour is applied to the back of the sheet ranging from 3 to 12mm depths or sometimes more which alters the colour and reflection because of depth and light source, hence our amazing colour matching options.
Consideration to lighting & space can influence your colour choices so choose carefully. If in doubt call ISPS Innovations, one of our helpful interior team are always ready to assist.

Example of a situation. Choosing whites on whites. ISPS Innovations have always been clear to our clients about contrasting & mixing whites on whites. They all vary. See "Dulux" image above. These colours, range from whites to grey & yellow base. ISPS can colour blend or tone to achieve the colour accuracy for near blend with your walls or decor. ISPS require the physical colour sample to achieve this. For precision of toning purposes we ask that you paint gyprock & post to ISPS. If you are satisfied with colour chip then mail this.
Earthy shades & tones don't always blend with other earth shades & tones.
Shade variations can look the same at a simple glimpse but when you take it home the difference is evident! Your expression to colour residency should be clearly well thought-out before you purchase any product! (vanities, joinery tiles, splashbacks, timber flooring, fittings, paint for your walls etc)
Custom made kitchens, doors, bench-tops and splashbacks all in any colour with ISPS Innovations!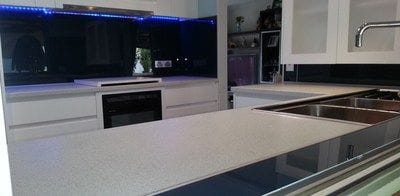 Create a visionary renovation board. Map out your colour choices and ask your self.....
What white, colour or shade/theme am I trying to achieve?
What colour are my floors going to be?
What colour will my walls be?
What colour will my joinery be?
What colour will my ceiling be?
What colour will my fittings be?
Will all these colour/s work jointly?
These are 7 very important questions to mapping out all your colour options to create a space that is visually rewarding.
So you're in the middle of a renovation? Never pick a bunch of colours and assume they are going to work.... Never happens! You as a renovator, builder.... should create a colour palette with the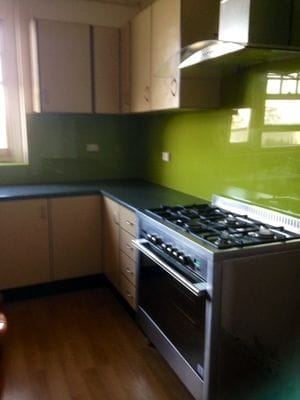 choice of colours in real time. What do I mean by real time? As indicated above, map out your colour choices, it is important to display all your colour options. ISPS Innovations provide a colour matching service to assist in the elimination of clashing colours, so with your order we can provide you with colour choices not a limited colour range.

For those that do not know, ISPS Innovations custom manufacture a range of innovative interiors.
Our range;
Bonethane Splashbacks
IPA Acrylic Splashbacks in any colour and print.
Etched Glass,
Toughened Glass
CulourTek Benchtops
Joinery
Briktan for outside brick rejuvenation, colour toning and blending natural brick to enhance natural lustre, without changing the nature of the bricks appearance..
Each creative range is custom made to size, colour, shade, depth & created for functionality & structural specification.
Your renovation may be a partial renovation, limited to budget, completely understandable. ISPS can provide the right colour options specifically to cater for your partial renovation decor.
Example: splashback or the colour change of existing doors, bench-tops etc all available in any colour choice.If you are sticking to a budget then you should work from your existing colour palette and consider the options available to you to re-invent the space you want to face lift.Explore the images of this before and after kitchen face lift. In this process we simply recoloured the door faces and kicks to distinguish the balance of the room. Presto refresh! Gone is the out dated laminate timber look. With newly applied door colour & modern handles the appearance of this room is now energized.

Kitchen, Doors, Benchtop, Splashbacks custom made to colour and specification by ISPS Innovations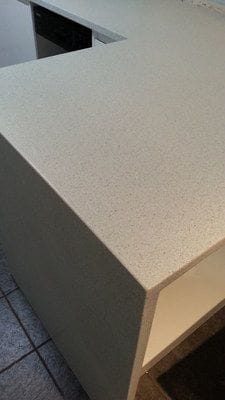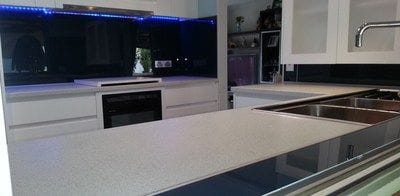 CulourTek Bench-tops express a grained radiance in any colour combination, non porous surface waterfall edge(no join). CulourTek Doors are available in any colour, satin, gloss or textured finished. Bonethane Polymer Splashback coordinated to suit CulourTek bench-top grained combination colour.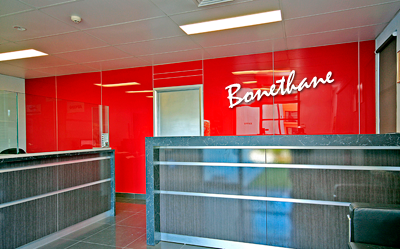 This is a great example: Bonethane a splash of colour lifting the radiance of a room that carries neutral tones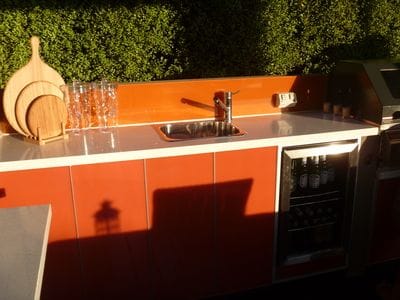 Or maybe a hint of burnt orange.
ISPS Innovations carry product of Australia logo on Bonethane, CulourTek Creations and Joinery
ISPS Innovations carry Australian Made logo on IPA Acrylic Splashbacks
For all your custom Splashback and Joinery solutions call ISPS Innovations we create your dreams and turn them into a reality.
www.ispsinnovations.com.au National Delivery to SA, VIC, NSW, TAS, QLD, NTH QLD, WA, NT
Have a creative day with ISPS Innovations! For more information please contact our office.
By Theresa Leonardos. National Operations Manager ISPS Innovations Phone 08 8381 8880
Note our Bunnings Splashback range which was Bonethane and IPA Acrylic Splashbacks are now available direct through ISPS Innovationns or call for your nearest distributor.
| | |
| --- | --- |
| Posted in:Architects Interior Designers ISPS InnovationsDIY Bathroom Splashbacks and Wall Panels by ISPS InnovationsDIY Acrylic Splashbacks IPA Acrylic Splashbacks, Bonethane Premium Splashbacks & Wall Panels, ColourBunnings SplashbacksReal Estate AgentsBuildersBuilding MaterialsCustom Kitchen Builders Adelaide locally owned nationally supplied by ISPS InnovationsAcrylic Splashbacks for Kitchens,Bathrooms, LaundriesInnovative Splashbacks & Polymer Systems By ISPS InnovationsOffice Supplies, Tablet Stands - By ISPS InnovationsTips to choosing your DIY Acrylic Splashback by ISPS InnovationsAcid etched glass toughenedWaste, Recycle,Reduce Landfill,Energy RecoveryInterior Desinger, Architects,Pantone coloursAcrylic SplashbacksBonethane PremiumISPS InnovationsSplashbacksKitchen & Joinery Custom & InstalledColourTek Benchtops, Wall Panels and PartitionsCut to size Acrylic Splashbacks and custom joinery, kitchens, benchtops | |